Regular
Join Date: May 2006
Posts: 254
iTrader: 0 reviews
Dart Eagle vs. World Man'o'War
---
1) DART Eagle Iron Sportsman Small Block Ford
2) World Products Man'o'War Iron/Aluminum Small Block Ford

Both are excellent blocks, great for high performance & racing, no doubt.

For a normal 4.000" bore with either stock 8.200" deck or a stroker 8.700" deck, which is more preferrable to streeters? Like which one would accept stock style camshafts, stock style head gaskets, stock style timing cover, stock style oil pan..etc.? I'm looking for the one closer in design to the production OEM block to avoid buying custom stuff.

Which one's got bigger water jackets, better oil galleys, more spacing between cylinders?

Thanks!!
I Post Entirely Way Too Much
Either block is an excellent block.
---
My daily driver has 16 cylinders and 4400hp @ 1000 rpm....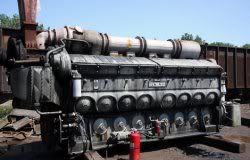 ***1988 Mustang GT - Stock....almost
Spend a couple more hundred and upgrade from the sportsman to the regular Dart Iron Eagle...

However, i have been doint some research and both are way stronger than what i will afford to throw at it.
---
[SIGPIC][/SIGPIC]
[B][U]MM Sapper Squad[/U][/B]
[QUOTE=Regency 2007;1676187]MSO's stupidity has never stopped amazing me since the day he joined this forum.[/QUOTE]
Regular
Join Date: May 2006
Posts: 254
iTrader: 0 reviews