Enthusiast
Join Date: Feb 2011
Posts: 724
iTrader: 0 reviews
Auto Finesse Mercury Metal Polish - Ferrari F430 Scud Exhaust
---
Cleaned up a Ferrari F430 Scud exhaust with
Auto Finesse Mercury Metal Polish
with MF Cutting Pad and Rupes Yellow Foam Pad with the Rupes Mini LHR75E - some final buffing by hand.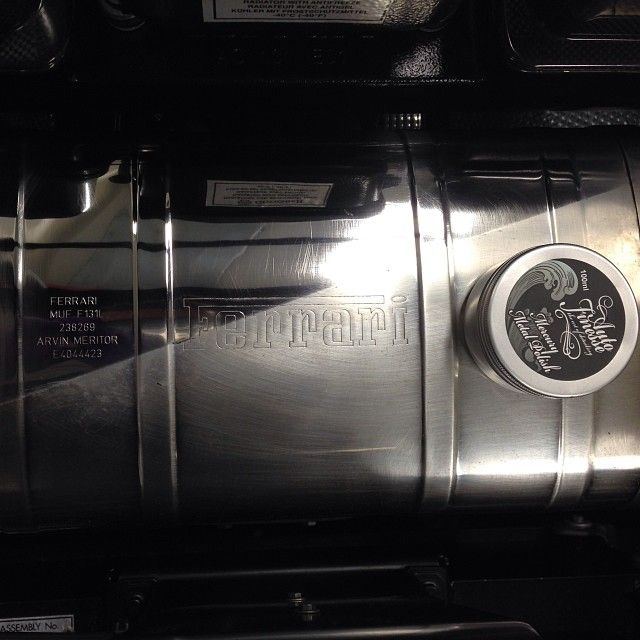 I Post Entirely Way Too Much
Join Date: Mar 2009
Location: El Paso, Tx
Posts: 5,175
iTrader: 0 reviews
Great results there Phil, I will have to pick some of that up from you in the future for my stainless steel Magnaflow exhaust tips.
---
2003 Azure Blue Mach 1

MGW, MAC Offroad X, Flowmaster Original 40's, Maganaflow 3.5" Tips, Anthracite 18x9's & 18x10's FR 500's wrapped with Nitto 555's, Eibach Pro Kit,
Enthusiast
Join Date: Feb 2011
Posts: 724
iTrader: 0 reviews
dannyboy I believe you will like the AF Mercury.
Ive been looking for a nice metal polish, i may look into that.
---
Always Clean Crew Founder
Detailed Reflections LLC
2012 Brembo GT Premium|3.73|Magnaflow O/R TruX & Comp CB|Airaid CAI|Lund Tuned|CHE|Whiteline
1999 Vw Golf TDI D.D.
2003 Mach 1 - Sold
2003 Mach 1 - RIP
1989 LX 5.0 - Sold
2003 Sixxer - Sold
Enthusiast
Join Date: Feb 2011
Posts: 724
iTrader: 0 reviews