Gleaming redfire metallic paint, black chrome fr500's, an endless list of modifications and a stance to die for, 2011 Chick of the Year, Tinkerbell_too, shows the boys how its done by winning her third MM crown.  If the image above doesn't make your right foot tingle or it doesn't conjure sounds of screaming tires begging for mercy, then please look away.  If it doesn't make you want to grab your steed's keys and head for the open road, windows and hammer down, then please stop reading now.  But, if you can hear the deafening growl of an American v8 in full song and smell the burning rubber… If you can hear the tings of tire bits and pebbles being thrown into the wheel wells…your pulse quickens and you can feel adrenaline pumping through your blue oval veins from just a picture…then you can truly appreciate all that is Mustang.
A member since MM's infancy, Tinkerbell_too or "Tink" as she is lovingly referred, has sculpted her 2003 GT into one of the most unique New Edges this writer has ever seen.  This matriarch's attention to detail and all out approach to personalization recently landed her an honor arguably greater than any MM ROTM victory.  What could trump such accolade? Tink had the honor of displaying her car front and center inside a performance parts company you may have heard of.  Summit Racing (yes, THE Summit Racing) selected her Mustang to be put on the turntable in the front window of the Summit Racing store in McDonough, GA.  Only the best of the best are worthy of such acclaim and this GT fits the bill. Passers by and customers were treated to a real life glimpse of an artist's vision of what is possible with the New Edge canvas.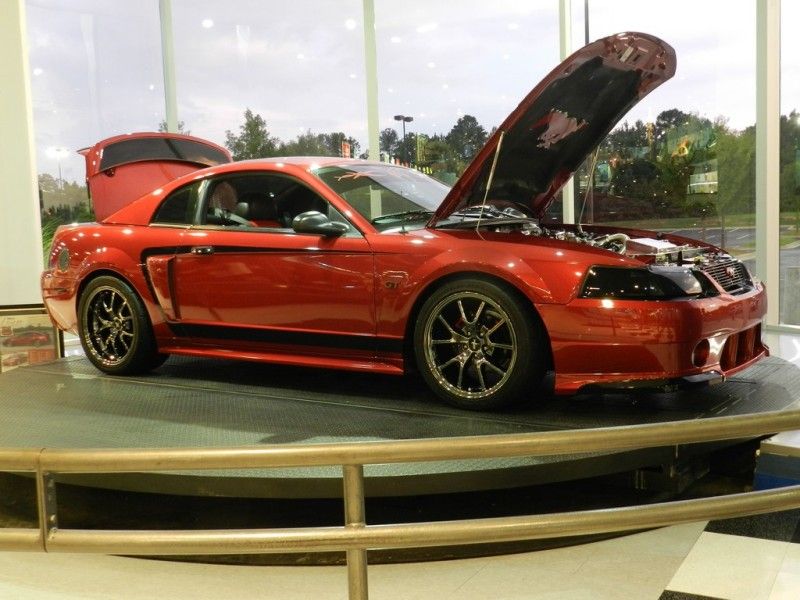 Tink met Summit Store manager, Reggie, when she began showing her car in basically stock form.  At the time, only wheels and springs had been altered.  Show after show and mod after mod the auto parts guru witnessed the evolution of the Mustang from plain to picturesque.  Not long after a show at World of Wheels in Atlanta, he asked Tink if she was interested in exhibiting her creation among Summit's other fine pieces of "performance art".  The rest is history.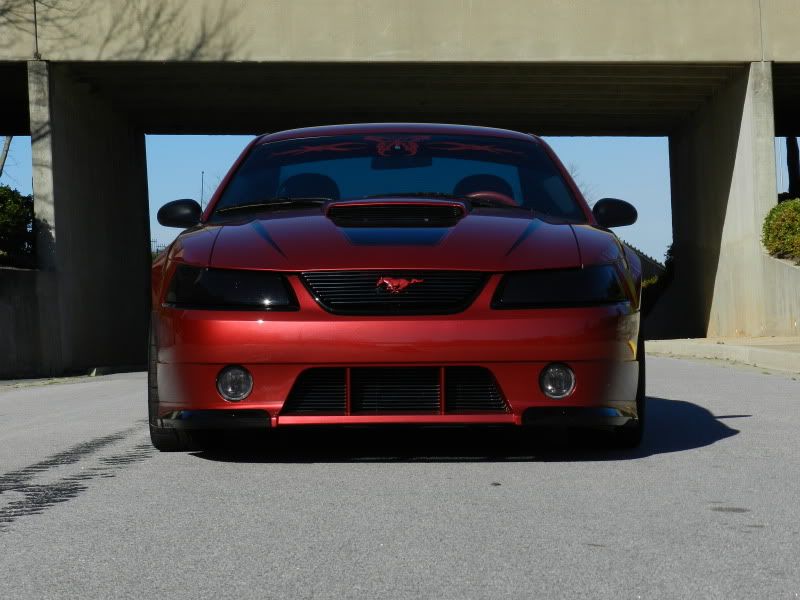 Tink has yet to complete her masterpiece.  Since her last ROTM, all of the previously painted interior parts have been hydro-dipped in carbon fiber laid over the exterior matching redfire metallic hue.  A touchscreen head unit with navigation has been added as well as blacked out headlights and black chrome grille.  Future plans include further tidying of the engine bay and later, the addition of the all important supercharger.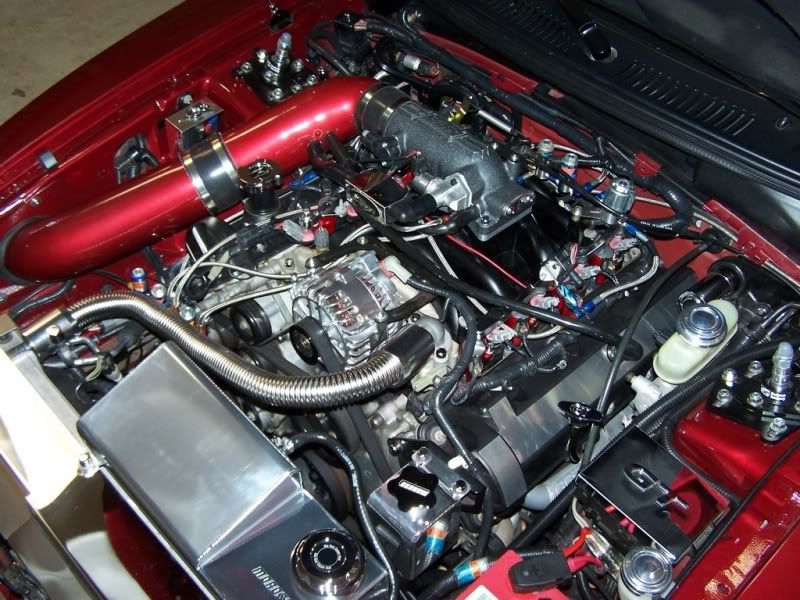 Tinkerbell_too has created a Mustang worthy of a spot in the Louvre'.  With a bare New Edge as her canvas and performance parts as her palette, she has bestowed this beauty upon us.  Ladies and gentlemen, behold your June 2012 ROTM victor… Tinkerbell_too.