Valve Lash Adjustment
---
One of the most important things that people seem to screw up is valve lash adjustment. Its required on all aftermarket ajustable rockers. Here is a few ideas on how to do it right.



The only method to adjust valves properly is as follows
1 Turn the motor over till the exhaust valve just starts to open.
2 Adjust the intake valve on that cylinder
3 Turn the motor over till the intake valve starts to close
4 Adjust the exhaust valve
This will work on any motor and any cam.



An easy way to tell if a cylinder is at TDC of the compression stroke is to watch that cylinder's valves as the engine is cranked or rotated. If the valves remain closed (the rockers don't move) as the piston approaches the top of it's travel, that piston is on its compression stroke (the closed valves were allowing compression to build). If instead, a valve opens as the piston travels upward (releasing compression in that cylinder) then that piston is on its exhaust stroke.

Intresting info here:

5. The following valves can be checked with the engine in position No. 1, with the No. 1 piston at TDC on the compression stroke:
∑ No. 1 intake and No. 1 exhaust
∑ No. 4 intake and No. 3 exhaust
∑ No. 8 intake and No. 7 exhaust
6. Rotate the engine 360į (1 full revolution) from the 1st position (No. 1 is now on its exhaust stroke) and check the following valves:
∑ No. 3 intake and No. 2 exhaust
∑ No. 7 intake and No. 6 exhaust
7. Rotate the engine 90į (1/4 revolution) from the 2nd position and check the following valves:
∑ No. 2 intake and No. 4 exhaust
∑ No. 5 intake and No. 5 exhaust
∑ No. 6 intake and No. 8 exhaust
---
-Mike
Link to My Site
Want to Play Some Pool???
Stroked and Blown!
Regular
Join Date: May 2006
Location: grand prairie tx
Posts: 393
iTrader: 0 reviews
yeh but cant u just put that cylinder on tha top of its compression stroke and just tightn the valve while pulling and rotating on the push rod and tighten until the push rod doesnt have any slack left in it???
Join Date: Aug 2005
Posts: 1,716
iTrader: 0 reviews
there are many ways to do it and get the correct clearances, but the way Mike described it is the easiest and most accurate. I'm just surprised that he's that far along in the build.......or are we reading ahead
I Post Entirely Way Too Much
The first method is the best way to do it and the only way to do it with a solid cam.
---
My daily driver has 16 cylinders and 4400hp @ 1000 rpm....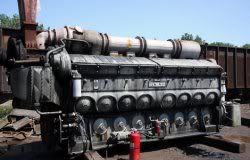 ***1988 Mustang GT - Stock....almost
Good stuff...
---
"Pain will always be there, misery is optional....."
This is how I do it. Starting at the bottom of the compression stroke instead of the top, and only having to do one rotation. just like mike said in his first paragraph. Its the idiot proof method. Thats the reason I use it. Not saying the above isn't easy, just easier for me not to have to remember which valves I can do at the same time.
---
---
Last edited by neverfastenough1; April 2nd, 2008 at

10:53 PM

.