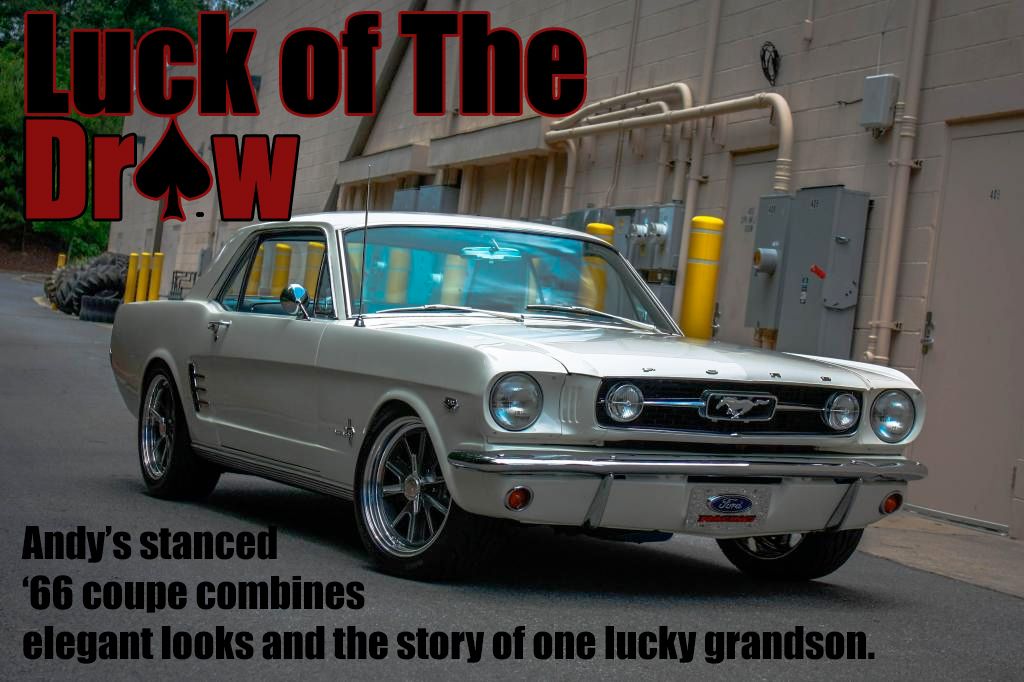 There's something to be said when a grandfather passes his legacy to a grandson. This generational handing of the torch, signifying the continuation of a passion doesn't come often. In Andy's ( AKA Aceswild02) case, his inherited passion is in cars. But when he wanted a project to memorialize the man responsible, there could only be one such ride. Enter his 1966 notch-back; Moddedmustang's May 2014 Ride of The Month.
From the beginning, Andy of Atlanta, GA knew the car he wanted to build. It had to be a Mustang and it had to be clean. But deciding that was the easy part – next was finding the one.  He spent months tirelessly browsing listings and chasing leads–even driving hundreds of miles to view possible candidates.  When an online ad for a '66 coupe popped up, Andy was skeptical.  Not much was mentioned beyond that it had undergone a recent restoration, featured a fresh coat of Wimbledon White paint, and included its original engine. Almost deciding against the 45-minute trip to view the car, Andy chose to give it a look. In retrospect, he's glad he did.
A thorough inspection of the sleek, satin body revealed a no-corners-cut restoration. The numbers-matching 289 had been built, including a .030 over bore, decked, ported and polished heads; Mutha Thumpr Comp cam, and flat top pistons. It was further fitted with an Edelbrock RPM Air-Gap intake, dual four-barrel carbs with progressive throttle linkage, electronic ignition, and finished off with long tubes, an off-road x pipe, and 2.5″ dual piping with Thrush chambered mufflers. All the work was done by the previous owner meaning the car was an ideal starting platform. Andy soon had the keys in hand.
However, despite its clean frame and impressive build list, the coupe was still a work-in-progress. "It needed tuning when I got it, so that was the first thing I did when I got it home." said Andy. "The cam is super aggressive and I beat my head against the wall for weeks trying to smooth it out and get it to not die at idle after warming up." His patience eventually paid off as the timing issues plaguing the '66 were sorted out. But as any auto enthusiast can tell you – when it rains, it pours. Shortly after dialing it in, the engine developed a head tick. Suspecting an issue with the valves, Andy wearily pulled the covers. Though he had no experience working on valves, some minor adjustments proved to be just the ticket. The noise ceased, and the stout v8 roared to life.
Excited to finally have the car running the way it was meant to, Andy turned his focus to overhauling the outdated suspension. With the coupe already sporting a Monte Carlo bar and export brace, he started by performing the "Shelby Drop"; a process which involves dropping the lower control arms 1″, just as Shelby used to do on the legendary GT350 and GT500. At the same time, 1″ lowering springs were added with a cut coil, amounting for a 3.5″ total drop in the nose. Work continued in the rear with the addition of 2″ lowering blocks, new KYB shocks, and finally 4.5 leaf reverse eye springs.
Though the car handled better than he thought possible at this point, but Andy still wasn't satisfied. Fitted with its original steering components, the '66 suffered from loose, sloppy steering. He first tried adjusting the steering box, but was surprised to notice almost no grease present–a fault many cars left the factory with. Needless to say, that simply wouldn't do; and after a bit of grease and some busted knuckles, steering on the old horse was tight and precise. "I now had an awesome handling, snarling beast of a coupe with the stance I was looking for," Andy explained, "but wanted to upgrade to a 17 inch wheel with better tires."
Months of careful searching ensued culminating in the purchase of four gorgeous American Racing VN427 wheels. Wrapped in BFG g/force T/A KDWs, the new setup improved ride characteristics and grip, all the while retaining a stunning vintage appearance. Mounting the bigger rubber presented a challenge in itself, however. In order to get the larger wheels to not rub in the rear, some fender rolling was needed. As the last step in the process, the rear KYB shocks were swapped for new Bilsteins, resulting in drastically increased stability.
Things don't stop there. Additional goodies include a t5 trans with Hurst shifter, 3.55 gears, brushed aluminum gauge cluster and glove box, 6 gauge cluster with large in dash tach, MP3 player, and deluxe interior door handles. Regardless of the extent of modification, to Andy, the white notch-back is more than just pretty looks. Dedicated to his grandfather–who passed away in 2011–this Mustang carries with it a special story.
"He bought me a '66 coupe when I was 13, and he and I worked on it for 3 years; finally getting it road worthy shortly after I turned 16. I later got into some trouble and had to sell the car," the fortunate grandson recalls. "After my grandpa passed, I wanted to complete the project that he and I worked on for so long. That is why I chose this particular project. He got me into classic cars when I was very young, we always worked on cars together and took his Buick to all the shows. He taught me everything I know about cars, and passed on his passion to me."
With only 48,000 original miles, this beauty has a lot more to give (next on the to-do list is mounting 13″ Cobra brakes). However, while the car may change, the memories surrounding it will remain constant.
"Funny how an old car can evoke so many memories," Andy concluded. "Bring so much joy and help create such a bond between an old man and a little boy."
If you ask me, that makes this 1966 Mustang–and its owner–very lucky indeed.
Article Written by: MG2V