In the mustang realm, great things come in pairs: washed & waxed, ported & polished and built & blown.  The populous of MM has spoken and in a momentous first, the August 2012 "Blackout" ROTM has yielded two victors.  Votes poured in and once the carnage subsided, the competition was deadlocked.  At the top of the heap of bloodied opponents and fallen dreams stood longstanding member RZNCAIN and second year member STRI8ED.  These two black mares are more than worthy of individual accolades but have agreed to share the crown as reigning ROTM winners.
Wisconsin based Mike S. (lovingly referred to as RZNCAIN, RAISINBRAN, RZNBRAIN, HARDPARKER, RZN or whatever satirical moniker fits the situation) brings you one of the most pristine rides ever to grace the homepage of MM.  If you want to join the lofty ranks of ROTM winners, prepare to take notes.  RZNCAIN's ride is a 2007 Ford Mustang Shelby GT #3892.  Uber clean, flawless black and silver draped over 20″ CS40 wheels, this Shelby demands your undivided attention.  Under the Cervini's cowl is a masterfully presented three valve matched with an intercooled Paxton 1200SL along side a smattering of billet and red powdercoat pop in the surgically clean bay.  The interior is lightly dressed with a 2008 Bullitt dash, a few billet sprinkles and a white Shelby cue ball.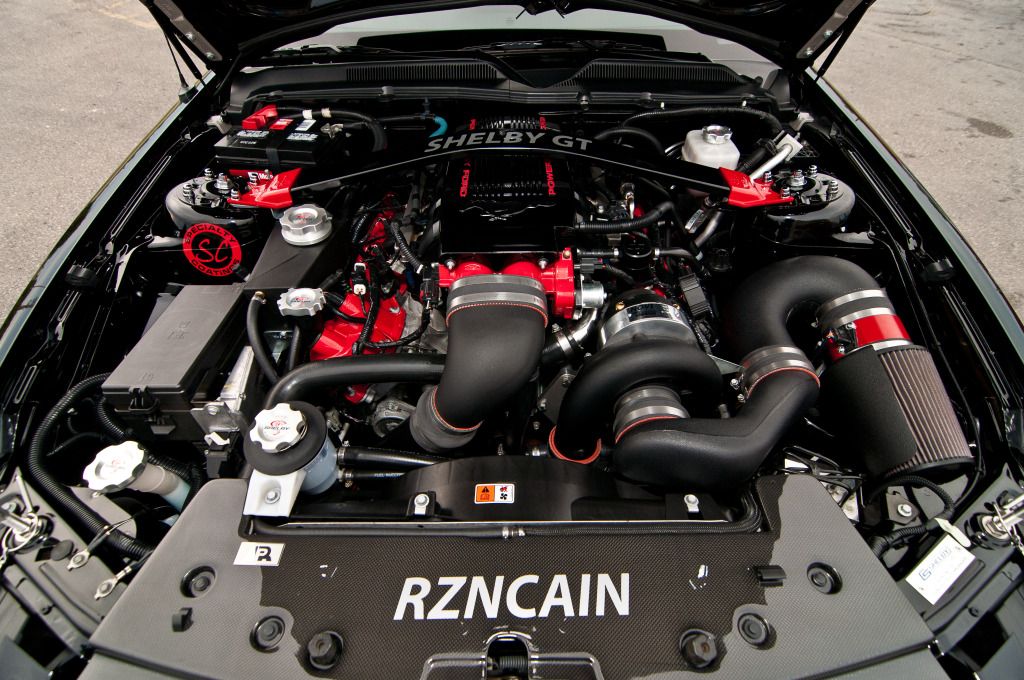 RZN plans to continue tastefully modding the car while keeping it true to its Shelby roots.  Subtle touches will be added but nothing that takes away from the overall look. For his hours of planning, polishing and parking, RZN is more than deserving of the August ROTM co-winner.  Keep on the lookout too for future creations from RZN as he plans on owning a Mustang in EVERY body style.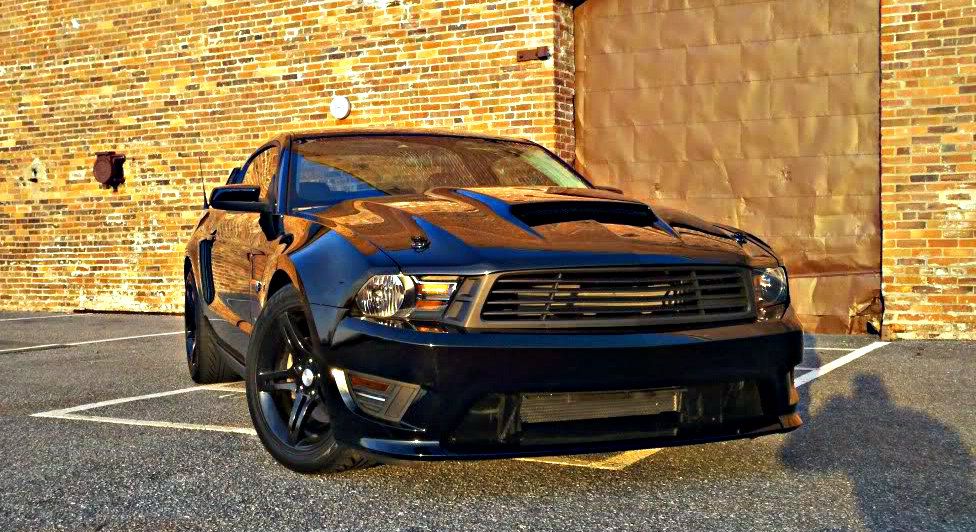 San Antonio's Alan M. (STRI8ED) stands beside RZN in MM victory.  STRI8ED presents a 2010 GT given the full blackout treatment.  Mirror black paint coats a Saleen front fascia and VIS Stalker hood signaling aggressive tendencies.  A GT/CS spoiler and quarter louvers round out the rear while blacked out Steeda wheels wrapped in Nitto rubber complete the understated persona.  Powering the GT is a 4.6L three-valve with a kick.  A GT500 Eaton M122 sits atop a Department of Boost GT450 manifold, while power is delivered to the pavement via set of FRPP 4.10s.  Suspension work includes and adjustable panhard bar, J&M lower control arms, FRPP K springs and GT500 shocks and struts.  With stealthy looks and pavement shredding power, this stang is definitely a formidable opponent for any daring bowtie boys.  Clean and mean, your August 2012 co-winner, STRI8ED.
Sadly, as this article was being written, STRI8ED's black beauty was sold.  He has acquired a 2008 GT500 which he believes will give him a much better modding platform. MM members were shocked at the departure of the 2010 but if his GT gave us any indication, the GT500 will be just as stunning.  With the skills he acquired with modding the 2010, the "new" pony will undoubtedly be experiencing some transformations – and possibly winning a future ROTM.
RZNCAIN and STRI8ED; double the recommended dose of ROTM.  Each styled for completely different tastes and each one equally deserving of a chapter in MM lore.
– opening picture edited by: IndianaJoe