I have a fascination with things that are cheap, fast, and ugly. There are no high-end custom jobs here; everything you see can be done on a simple budget. These vehicles are underappreciated and usually have very low selling prices, which means you have more money leftover for getting that thing to go fast. If you lose your car was considered a piece of junk anyways, but if you get one of these winning races you will be robbing those rich boys of their dignity. Also note, these are in no particular order, these are just 10 ideas for cheap sleepers.
10. '90s Chevy Caprice wagon- Chevy, in all its infinite wisdom, decided suburban soccer mom needed an LT1 V8 in her station wagon. These cars are cheap and the 350 LT1 was also found in the C4 Corvette and early 4th-gen Camaros, meaning it is a popular starting point for some serious horsepower. To really get the full potential out of this car, expect to be putting it on a diet to get that curb weight down. Once it has lost some pounds and gained some stroker cubic inches, this car can be quite a nasty piece of machinery to embarrass that guy with daddy's Subaru STI.
9. Ford Crown Victoria- Whether you like the 4.6L or the 5.0L, they can be bought for low prices and sport the same motor as Mustangs, meaning your aftermarket is wide open. Throw on a blower, lose some interior pounds, and even swap in a 5-speed if you are so inclined. If you're in the mood for stationary entertainment, get a black hair dryer and sit on the side of the road where people like to squirrel around. Mercury Marauders are the sportiest version, but will generally bring a higher price and can be harder to find than the police interceptor models.
8. GMC Syclone/Typhoon- Hard to find and sitting on the more expensive side of the list, but still under $10,000 for a clean specimen, is a pair of black GMCs. The Syclone is the truck, the Typhoon is the SUV, both came with a turbocharged 4.3L V6 that Car & Driver put to the test against a Ferrari 348. Guess who ran the faster ¼-mile and can stop from 70mph in a shorter distance? I'll give you a hint: it's got a turbocharged V6, a 4-speed automatic, 4WD, and can fit 7 kegs of beer in the bed.
7. Ford Ranger 2.3T- Some motor swapping required, but since the 2.0L, 2.3L N/A, and 2.3L turbo all share the same block the swap is pretty simple. The 2.3L turbocharged motor from Ford enjoys a nice aftermarket and can make some serious horsepower, but is relatively unheard of since the cars it came in had big brothers sporting 5.0L V8 engines that the public as more interested in. So why, you ask, would you take a 2.3L turbo out of a Thunderbird (T-birds had the most powerful 2.3T) and throw it in a pickup truck? The answer is that old 2WD Rangers are lighter than the '87-'88 Thunderbirds by about 700lbs, not to mention Rangers are one of the least-respected vehicles on the road when it comes to performance.
6. Buick Regal GS- Supercharged for 240hp and 280ft-lbs right from the factory, or you can opt for the rarer GSX model making 270hp and 312ft-lbs. And I mean come on, it's a damn Buick Regal! It doesn't get much more sleeper than a blown 4-door grandpa Buick!
5. Dodge Caravan- I don't think it gets much more sleeper status than a minivan, and the amount of possible combinations and motor swaps here is almost astounding. Some models were available with AWD, some with a 5-speed, some with both! To add to it, some came with 2.5L turbocharged motors and the ones with the Mitsubishi V6 engines love turbos and blowers! Motor swapping is quite common: I have seen the formidable 2.2L turbo motor dropped in, not to mention the V6 is the same as was used in Eclipses and 3000GTs, and then you could also just build that 2.5L turbo. I would be all day talking about the different things you could do with these vans, but any way you look at it a ate '80s or early '90s Dodge Caravan is going to be a very cheap starting point for one hell of a sleeper. The real potential in this van is being able to avoid tickets; a cop would have one hell of a time explaining a burnout or street racing ticket to the judge!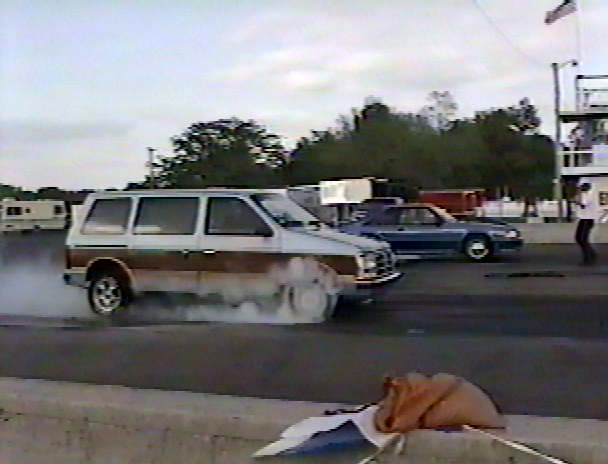 4. Chevy Chevelle- I am speaking specifically about the '73-'75 models. Up to '75 they had the 454 big block and up to '74 they could still be bought with a Muncie 4-speed. Not a bad deal to get a big block 4-speed car on the cheap! This car has the upside of being uglier than a tuna and not being nearly as recognized as its earlier brothers. The downside is it is loaded down with all kinds of junk emissions stuff, expect to throw a full top end and a good set of pistons at it, but big blocks make big power if you get the right stuff. The Monte Carlo of the same years is also a good selection, it featured the same 454 engine but the Chevelle could be bought with a Muncie 4-speed.
3. Pontiac Ventura- With the recent explosion of the old school Pontiac aftermarket, parts are cheap enough to make some serious horsepower with these cars (and I do mean serious). The car is a virtually worthless piece of junk that no one has ever heard of. Many came with a smogged up Pontiac 350 (different from a Chevy 350). What most people don't know is that even though Buick, Oldsmobile, and Chevrolet all had small and big block varieties, Pontiac's engine was the same size block from 326 all the way up to 455. So grabbing one with the Pontiac 350 in it means you can throw a 400 or a 455 right in it, strip it down, and tear up some asphalt. Not many people know that I own a rusty brown '74 Ventura with "stuff" done to the motor, and I like to keep it that way.
2. Cadillac Eldorado- In 1970 Cadillac introduced the 500 cubic inch, 8.2L for those on the import system, motor capable of 550ft-lbs straight out of the factory. With mild work I have seen 5000lb+ cars doing wheelstands and going for mid 10s. If your entire idea of a sleeper is BIG power, then the Cadillac "Helldorado" is for you! Driving this car makes you a connoisseur compared to the other local pimps, so after you take a rich boy's money you can look good putting his girl to work!
1. Honda Civic- Now most people will wonder why this is a sleeper. Well, if you spotted a 4-door Civic with a stupid wing made out of wood, a primer body kit, and a retarded huge fart can, what is your first impression? Now it runs mid-10s and destroys you at a stoplight. Huh?
These cars are so often riced out that doing really dumb modifications and tacking stickers everywhere means you can easily blend in with the slow ones if you did many of the same modifications and acted like a total idiot while you drove around. This is one of the easiest ways to trap someone, only for them to figure out later that you actually spent most of your money on the B-series swap and turbo kit, the wing was made in your garage and the stickers came free with all the actual parts you have on your car.