Chase Adkins
Mooresville, NC.
Asking $8,000.
CAR HAS SPUN A ROD BEARING
Lets begin:
Car has 80,198 Miles. Goes up very slowly. Daily drive it but under 15 miles. Car is a head turner, Compliments and pictures taken daily. 7042390334,
[email protected]
Mods are as follows:
Suspension:
UPR Tubular K member, A arms and Coilovers Kit. 14/175 Springs.
Tokico 5 way adjustable"s up front.
Tokico Blues in the rear.
Ford C Springs in the rear.
Steeda control arms with adjustable uppers.
Full length welded in sub frame connectors.
SVE 10th anniversary 17x9, 17x10.5 Wrapped in Almost brand new Nitto Nt555's. 245s, 315's.
Body:
OEM Cobra rear bumper.
OEM Cobra front bumper complete. Fog lights, Bezels and Chin Spoiler.
OEM Cobra Hood.
Smoked Head lights.
Repainted 2 weeks ago today. GRABBER BLUE!
Motor:
Complete 2.1 Kennebell Intercooled kit.
Extras not included on the kit, Big tube intake, K&N Huge Filter, 90mm Maf, Kennebell Flip Chip.
Solid Motor mounts.
Brand new Fuel Pump. Running a Boost a Pump.
Always Royal Purple!
Pushing 10Psi.
Dyno Sheet in hand. Made 400hp, 460ftlbs with a incorrect dyno. Rescheduled to go back for of course higher horsepower.
Compression test, CLT and Fresh Plugs. All beautiful!
Exhaust:
Bbk Longtubes
Bassani Xpipe
SLP LM1
Drivetrain:
Rebuilt Tr-3650.
Steeda Tri-ax.
6 puck Unsprung Clutch.
Aluminum Flywheel and Driveshaft.
Poly Trans mount.
Steeda Clutch quadrant kit.
3.73's with rebuilt Rear. Fresh Fluids.
Baer Brake kit all the way around. (Not on the rear at the moment but will be included.) New pads.
Interior:
2 pod gauge cluster with Glowshift Gauges.
Boost and Fuel Pressure.
Steeda Instrument Cluster.
Bezel around shifter.
Kenwood Cd player.
Pro Car, matching interior Racing Seats from Summit.
Unfinished- No emblems or Grill. Left that for the choice of whoever buys the car. Other than that no cons!
Theres so much more I just cant think of off the top of my head. Serious offers more then welcome to come out and look. No joyrides. More pictures upon request.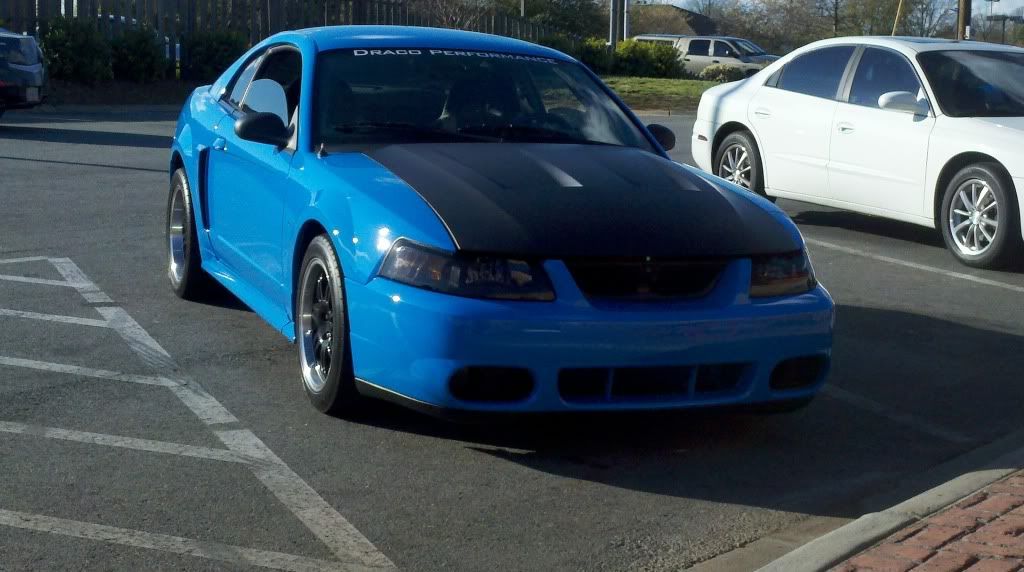 Pictures by 04Kennebell - Photobucket