Discussion Starter
•
#1
•
So ive been reading around about relocating the battery to the trunk and at first i thought it was a bad idea, re-wiring in general because i need my car to start every day no matter what and electrical issues from a battery relocation would not be good, until i found this.
My Battery Relocation Project (MANY PICS!) - SVTPerformance
In most guides i have read, they tell you to ground everything out under the hood which i can understand, but then they tell you to run a hot positive 0 gauge wire using eyelets and a bolt and nut and run that positive wire all the way to the trunk... but this wire will be hot at all times so if there is any short it may cause a fire. so this correct method which is track approved uses a second starter solenoid and relay in the trunk, so that positive wire that is run from the front of the car to the back will not be hot at all times.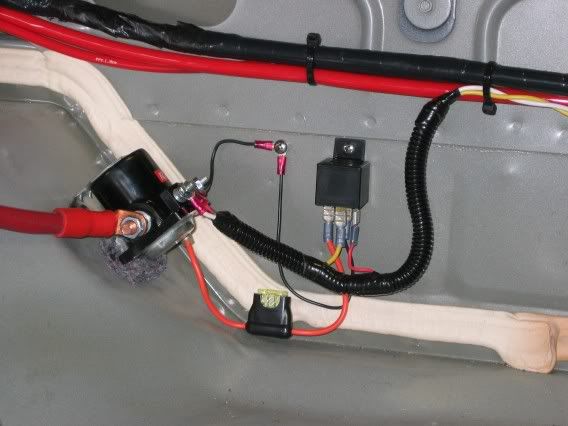 ***The yellow & white wires I ran above were for the starter circuit. This is where I diverged from the referenced diagram. I extended the existing starter solenoid circuit back to the relay to operate my own solenoid instead of tapping off the ignition. The OEM starter solenoid circuit is bundled with the OEM starter cable, so I just reused that section (to get to the starter) and spliced on my wires...you can find the OEM starter solenoid circuit at the power distribution box under the hood (white with red stripe wire). The yellow wire brings the "starter engage" signal back to the relay and the white wire takes it back to the OEM wire that leads to the starter.
Should I do it?