Discussion Starter
•
#1
•
Grab a beer. Get comfortable.
Here is a full how-to, plus pics and a video. Arghh arghh arghh.
Special thanks to UrbanRedneck who both sold me his used Mac Longtubes as well as provided me with a killer how-to PM, and Emay as well for insight.
A lot of this description is Urban's from PM's he sent me. I added torque values, notes, re-ordered it into exactly how I did it, and added my own twisted humor. "Open header fury" is Urban's patented catch-phrase. LOL. Urban, if we get to meet, the beer is on me. Thanks again for enduring my PM's.
Anyway...let's do it up:
You can do either side header first. Emay does the driver's side, Urban does the passenger side. I did the driver's side first.
No lift is needed. Raise the car up as high as you can and put it on 4 jack stands or a set of ramps and two jack-stands. I used ramps on the front and jack-stands on the rear. Some guys who use all jack-stands also remove the front wheels (Urban does this, I did not). Open hood and remove your air intake:
Turn the steering wheel about 90 degrees left - You are trying to get the steering shaft bolt to point up (where the shaft goes through the firewall on the engine side). Take a good look at that steering bearing on the engine side of the firewall, and take some pics of it. It is funny looking, and if you don't know what it looks like, you will think you screwed it up when you re-install, but it is normal - it looks weird.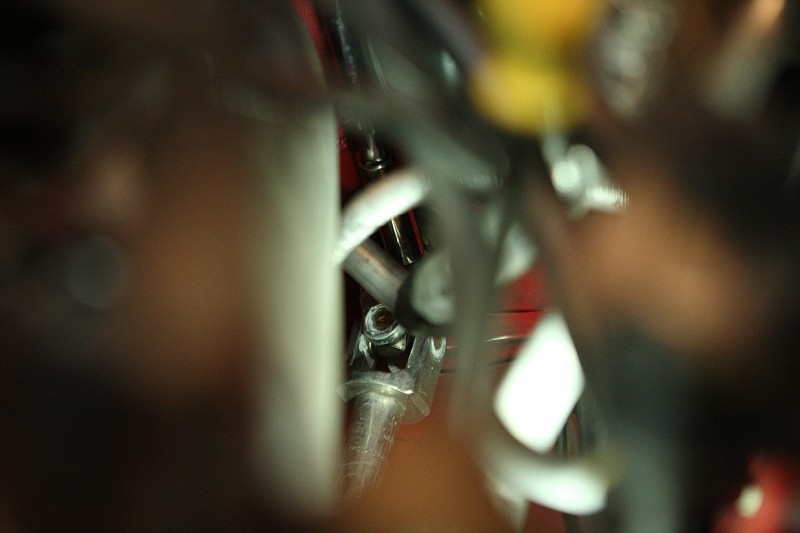 Disconnect the negative battery cable first, then remove the battery and battery tray (8MM with extensions):
If you have a K-member brace (I.E. Steeda G-Trac brace or CHE brace), remove it (22MM nut and 12MM Allen socket):
Disconnect the passenger front O2 sensor (22 MM) from near the battery.
Disconnect the cat-back + X or H or ProChamber or whatever you have and support the over-axle pipes with something, I used a bungee cord between two tabs that are on the floor in that area. (OEM Cat-flange to OEM header bolts are 15MM). The H pipe to over-axle pipe clamp bolts are 12MM.