Well I guess now is better time than any to show folks my "new" car. This is going to be somewhat lengthy since I've had the car for almost 6 months now and ran into some issues.
Back in August I sold my '11 5.0 for a number of reasons, one being me and the wife were planning on extending the family. A few weeks later, we found out that'll be happening sooner rather than later so I figured it was time to get me another car while I could. Looked around for a while but never found anything within my range(only wanted a cruising car that didn't have porno red interior, A/C, decent paint and interior, not really beat on type car ect, not a race car by any means). Buddy pointed me to one that was local and guy wasn't really wanting to sell, but said if I show up with cash, it's mine. And that's what I did.
It's a '92 LX hatch with a baby turbo on it. Previous owner did push a head gasket in the car from the fan relays acting up and ended up rebuilding the engine with a polished stock crank, custom rings, and a few other things to help the life of the car.
Here's the run down on all the goodies on it:
80k original miles
No wrecks and paint is a 8 out of 10
"garage queen"
Car weighs 3060lbs last time on scale.
Engine
Stock 5.0
Quicktime Turbo system (not Chinese crap)
67mm Precision
Magnaflow catback
GT40 Heads
Explorer intake
60lb Siemens injectors
BA2800 MAF
ARP Head studs
MLS Gaskets
Mishimoto radiator with ramchargers fan and contoller
MSD Digital 6 / 2 step & revlimiter
2 step is wired to clutch and works flawlessly
255 walbro intank fuel pump
Drivetrain
TKO600
SteedaTri Ax shifter
B & M Handle
Promotion clutch 680 HP
Ford Alumn driveshaft
3:27 gear
Differential girdle cover
Suspension
Tokico Illuminas adj shocks & struts
Baseline Upper Adj control arm
Maximum Adj lower control arms
Full length sub frames
Torque boxes welded
Misc
MT 255/50/R16
Innovate wideband
Battery relocated to trunk
solenoid is in trunk
brand new battery
SCT 4 position flip chip
Pics: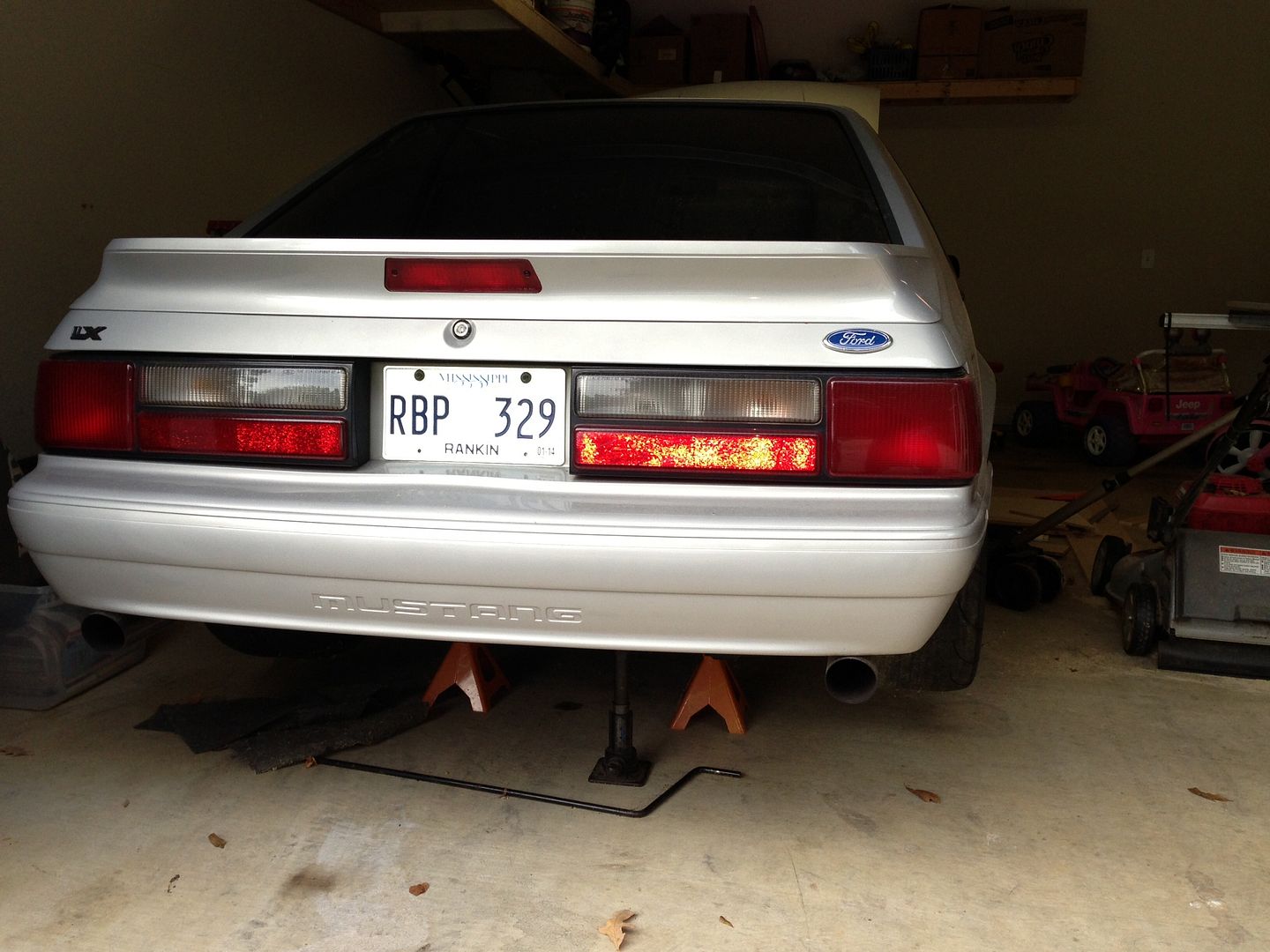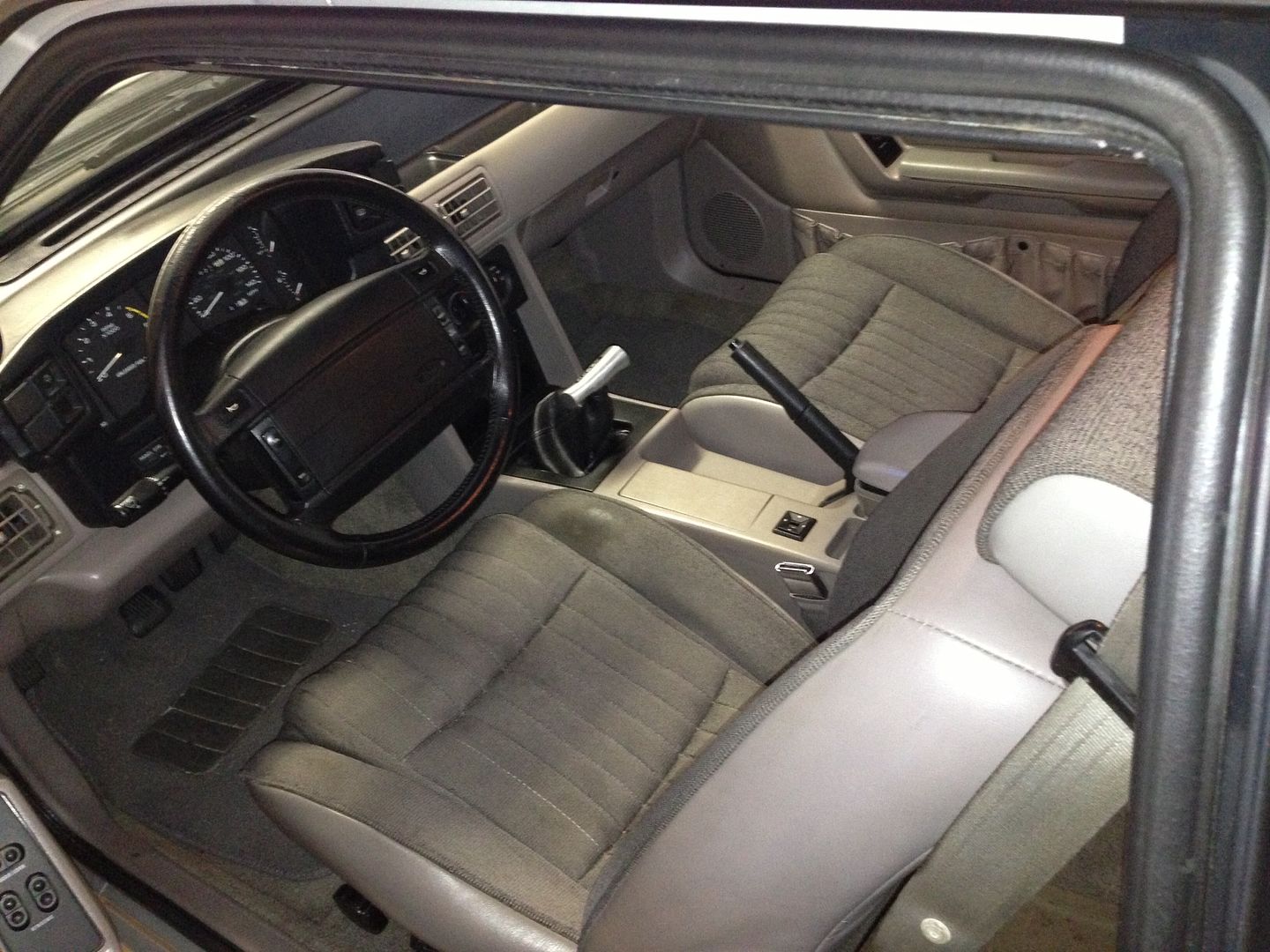 Very clean car, fun to drive, actually rides very well for a foxbody, and interior is immaculate. On top of getting it for a pretty good price for mileage and mods, was pretty damn happy to get the car. Got it towards the end of Nov and drove it around every couple of days. Did have some issue with the fans not cutting on and car somewhat over heating, but a little bit of jiggling or replacing the fuse would fix it quick.
Well here's where the fun begins. Since I knew the fans acted up, I debated completely rewiring the entire fan controller and all that but wanted to wait to make sure they(being the fans, the controller, and hell even the radiator) were worth keeping. Went out to just drive around some the day after Christmas, get on a long road with no one on it and decide to make a test it but notice the temps are a little higher than they should be, so jump out of the car to try and get the fans to cut on, and nothing. Wouldn't cut on for anything. Sat there a min let the car cool down and started checking things, coolant in the radiator, getting power to the fan controller(there's a light on it to know that's got power), then grab the coolant hose.... sure enough, it was "cold". Tstat wasn't opening up. Well you might think, why not just turn the heater on full blast and force it open.... Previous owner took heater lines out to clean the engine bay up some(granted, it does look good). Well hell, gotta limp home(luckily only a few miles away) and the simple task of replacing the tstat begins.
You'd think that'd be an easy task.... Well I end up rounding out the tstat bolt hole that's right behind the water pump because my wrench was to fat to come out("That" -She)... So figured since I'm pulling the intake off to fix it, might as well put a new intake on it. Get a used Trick Flow Track Heat from a friend. Well took a little bit of time to piece everything together(had to delete the 1" spacer, so had to get new bolts, needed new egr/throttle body gaskets that were back ordered for over 2 months), and it had a larger gasket so had to order it, but finally got it all together and ready to go.
How it sits now: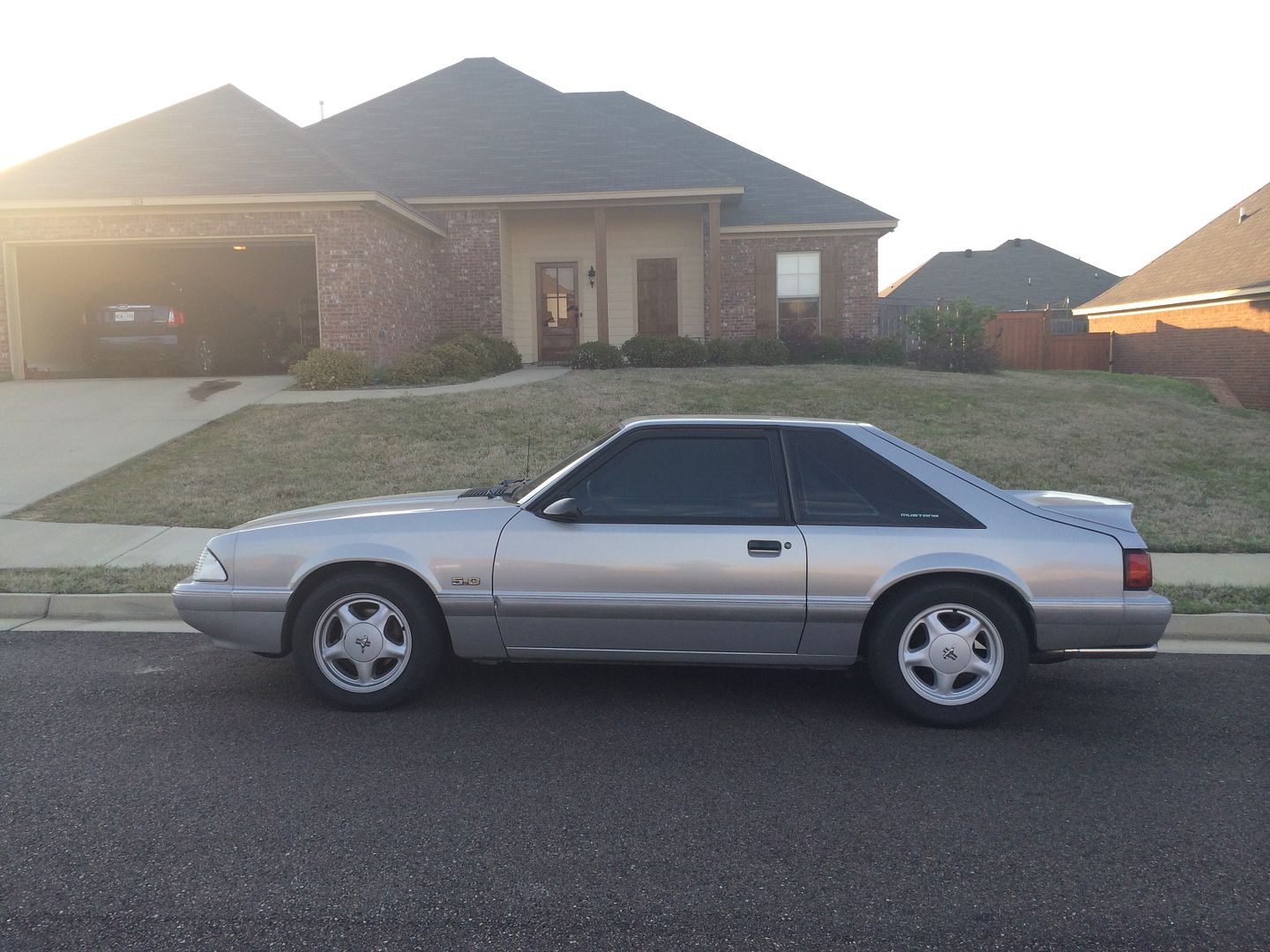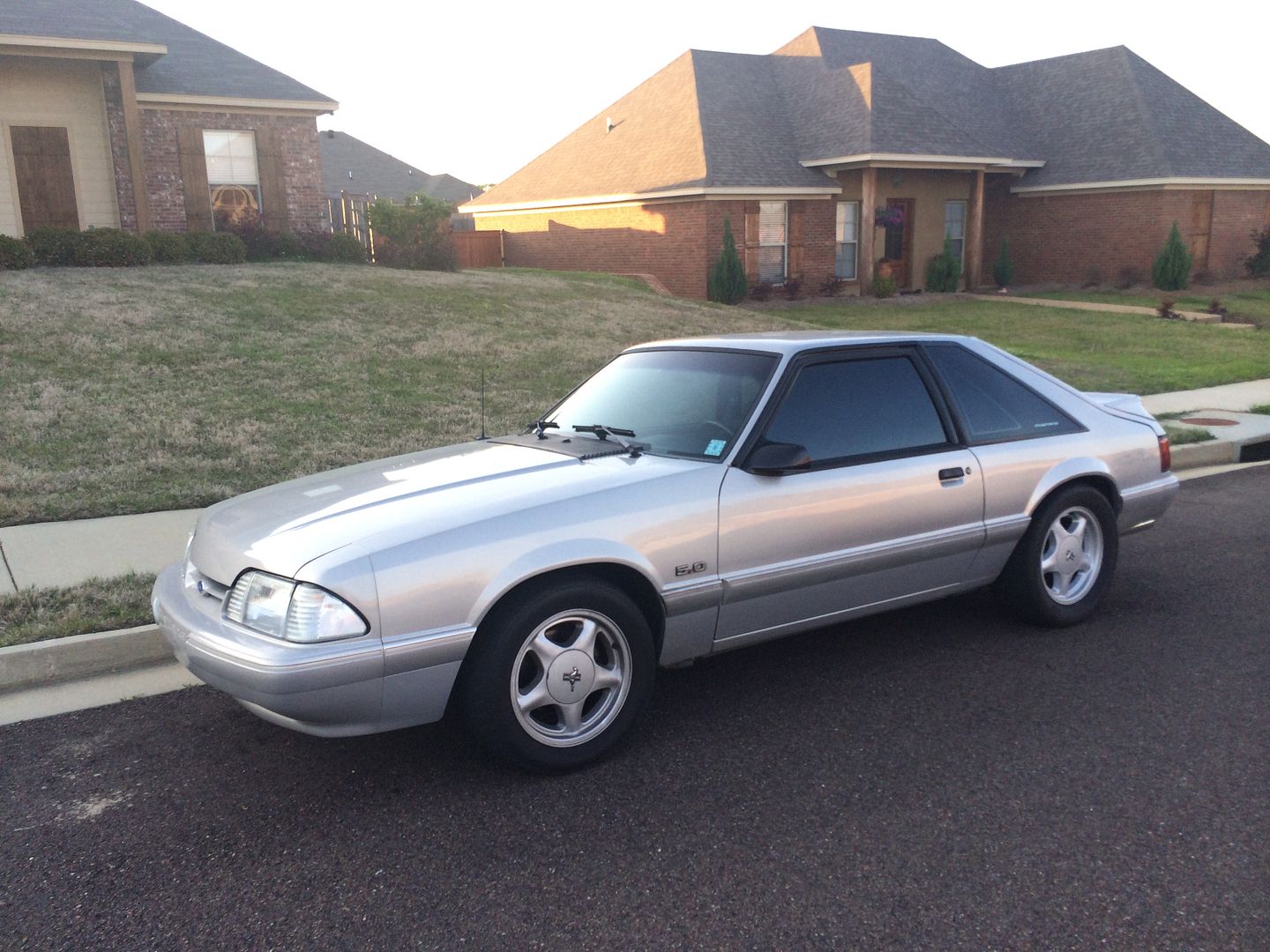 Getting it retuned at buddy's local shop:
We took it out that night just to ride around and make sure everything was fine and it was. Car pulled hard, felt great, and was making the power I wanted(was hoping for 400hp on pump, previous owner ran it on 110 and made 444/500 from a JMS tune). Took the car out the next day to enjoy the weather, ran around town some kept checking temps like I always do and everything was fine.... Until 5pm, then it decided it wanted to be a garage queen again.
I know it's kind of hard to read, but that's 250 degrees.... And the switch above it is a manual cut on for the fans, so I know they are ALWAYS on when the car is on.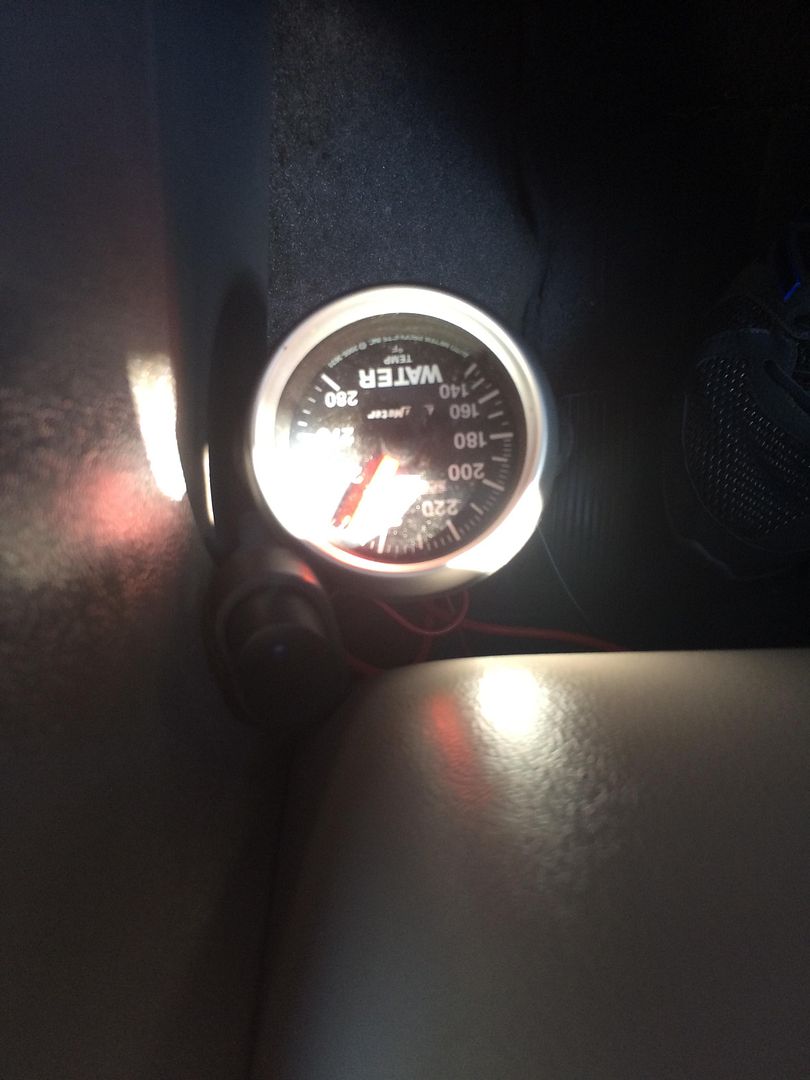 And video from it going home after putting coolant in it...
Pulled right after I got home... Doesn't look murky, but that's 3x the amount of oil it should have, so somethings pushing it up.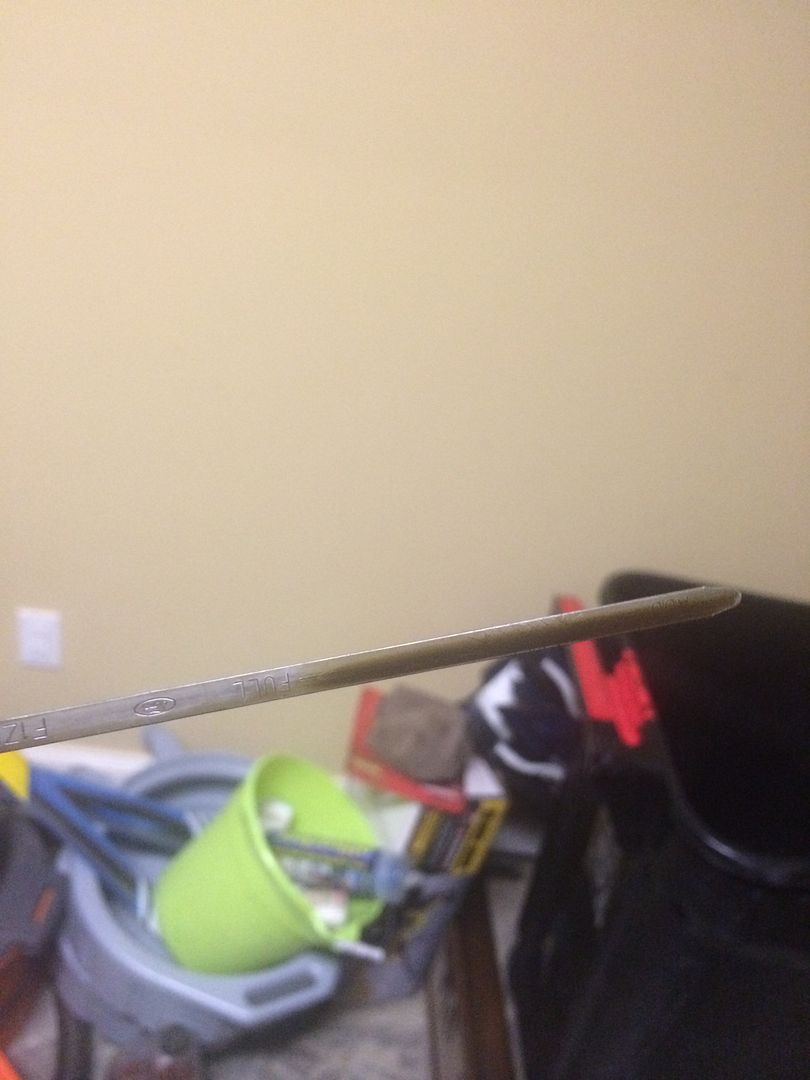 I'm guessing it got low on coolant and in the 2-3 mile span I was cruising on the interstate and didn't check the temps it shot up. Previous owner did tell me there was a small leak in the radiator, but if this is the cause, that's definitely no small leak after <150 miles of riding around since it was full. I should have checked it after the dyno, or before I left that day, or when I was at a buddy's house, but it is what it is and future steps will be taken to make sure it never happens again(I'm thinking along the lines of an alarm when/if it gets over 200 degrees). But I'll eventually pull the heads and find out if they are cracked or warped, if some how the MLS gaskets failed, or if the new seals on the intake manifold are shot.
TLDR: Bought new car in Nov, had to go down from Christmas till basically this past weekend because of my stupidity, 22 hours after getting tuned, blows head gasket/warps/splits heads. Now it's down again for a while till after baby probably gets here.