Hey guys and gals. I knew that upgrading my brakes was something that I was going to do eventually, and after installing my Roush M90 it became the next thing on my list for the extra stopping power. For wheels I have Saleen Speedstars, and with 20 inch wheels the stock rotors and calipers looked so small on my car, so a big part of this upgrade was also for looks. You can get the kit brand new from almost any of the vendors for $1,100-1,400. I browsed ebay and craigslist until I found a set of take-offs for $650. My set came with two 14" front rotors, 2 Brembo 4-piston calipers, brake lines, and brake pads. These kits are available with very low miles (mine had less than 1000) due to owners upgrading to the Super Snake package which uses a different brake setup.
Important information concerning fitment
Application: This Ford Racing SVT front brake upgrade kit is designed for use with ABS-equipped 2005-2012 GT Mustangs, including the GT, Bullitt, GT/CS, and Shelby GT. Will not fit non-ABS equipped Mustangs. Requires 18" or larger rims for proper clearance.
Technical Notes: This kit will not fit any Bullitt wheels or the FR500 wheels. It will fit 18x9 GT4 and 18x9.5 Shelby GT500 wheels designed for the 2005+ Mustangs. This kit requires the use of 18" or larger rims for clearance, and all other styles should be test fit to ensure proper fitment. Will not fit on non-ABS equipped Mustangs.
This kit is simple to install and can be done in less than an hour. Most people let bleeding the brakes intimidate them, but this is super easy. You need a torque wrench, 10mm socket, 15mm socket, 11mm wrench, brake fluid (Dot 3, check your manual for certain), brake cleaner, shop towels, and a brake bleeder kit.
1) Loosen the bolts on your front wheels, then jack the car up and place on jackstands or the equivalent. Always engage your emergency brakes and put wheel chocks behind your rear wheels.
2) Remove the front wheel. At this point you can disconnect your brake line using an adjustable wrench, and remove the bracket that secures your brake line in place with a 10mm socket/wrench (brake fluid may drip out when you disconnect the line, but it won't pour out as if you were draining it. I placed a few shop towels on the ground under my lines to catch any drips). There is an additional 10mm mounting bolt on the front strut that needs to be removed, and two plastic retainers that keep the brake line and speed sensor line together (these just slip off).
Here is a side-by-side comparison and mounting pics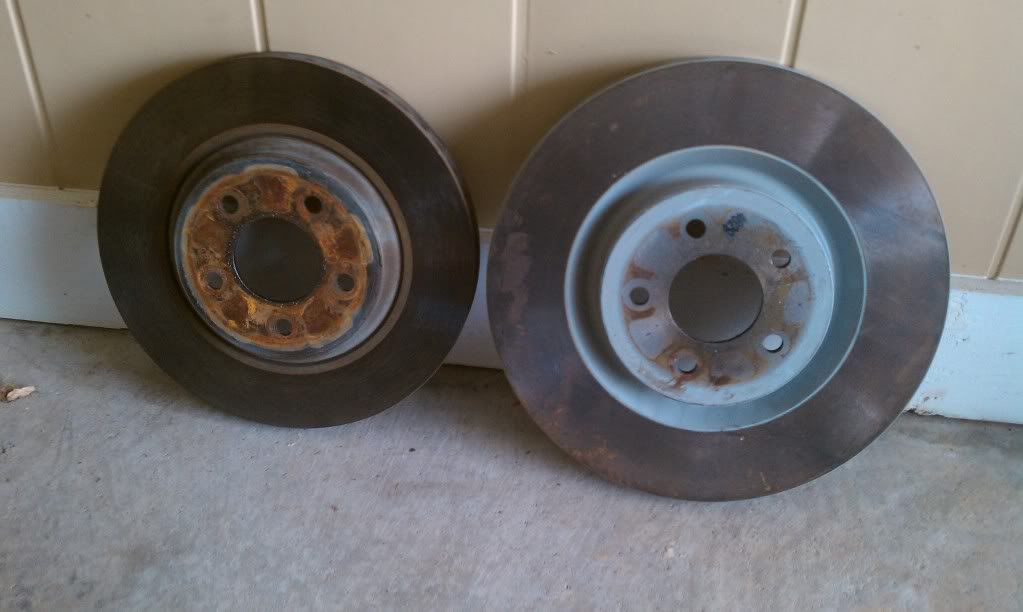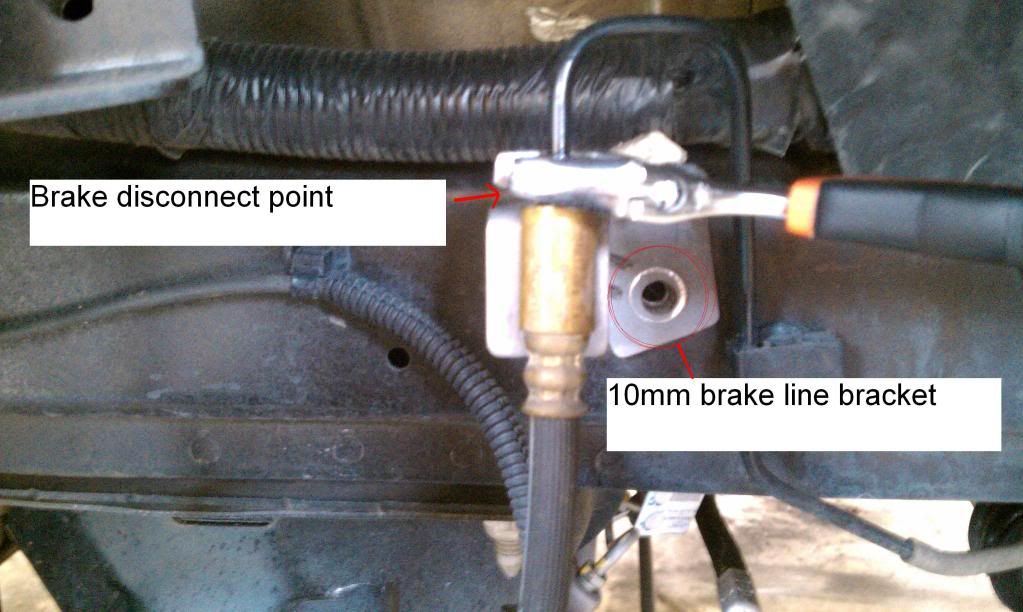 Also, brake fluid can eat paint way, so be sure sure to clean up any drips away with water and shop towels.
3) You can remove your caliper by using a 15mm socket or wrench on the two mounting bolts behind the caliper. You will reuse these bolts. (Even though the new rotor is bigger, the Brembo caliper mounts at the same spot) To pull the rotor off, you have to remove a small retainer clip that is on one of the wheel studs. Just use pliars, etc. Don't worry about destroying it, you won't reuse it.
4) Place the new rotor on and use a lug nut to secure it in place while you mount your new caliper with the 15mm bolts you just removed (they were installed from the factory with blue medium locktite. I brushed the old locktite away and added a small amount of fresh blue locktite). Spin the rotor and spray it with brake cleaner before adding your new caliper.
5) Mount your new caliper at the same mounting points with the 15mm bolts (torque to 85ft/lbs per
Ford Service Manuals - 2005
), and reconnect your brake line. Secure all 10mm mounting brackets and plastic retainers.
6) Bleed the brakes. You can use a bleeder kit from a local autoparts store, or make your own. I used a piece of clear plastic 3/8" tubing and a water bottle. The plastic tube is fitted over the bleed valve on top of the caliper, and an 11mm wrench is used to open the valve. (I had a friend pump the brakes for me, but there are ways to do it solo if you need to)
In simple terms, when you press the brake pedal, brake fluid amount and pressure is increased in the calipers. Brake fluid can not compress so the pressure is placed on the pistons, thus squeezing your brake pads to the rotor for stopping power. You don't want air in your lines because air can be compressed and gives a spongy feeling with less stopping power. You bleed your brakes to fill the lines and ensure that any trapped air is removed.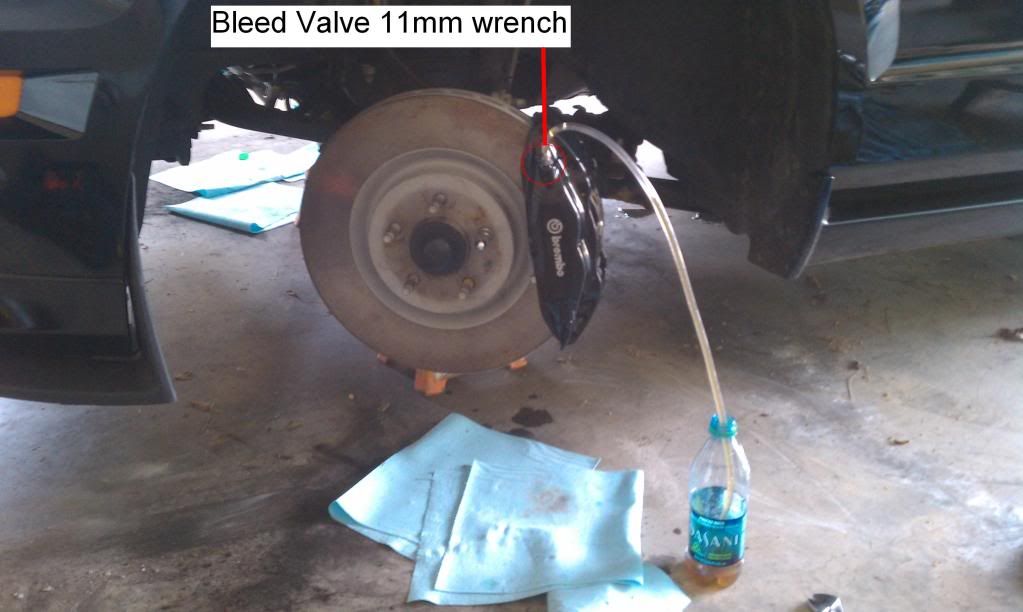 You will only be letting a small amount of brake fluid out of your system, but you still need to check and make sure your levels are good on your brake fluid resevoir, and DO NOT allow your levels to get low. If you are even getting below the minimum fill range you are doing something wrong.
To bleed the brake line, you simply have a friend/wife/whatever pump the brakes several times to build pressure, then press the brake in and hold it. While the brake is pressed, you turn the brake valve nut a quarter of a turn to let brake fluid and air out. Only leave the valve open for a few seconds, then repeat. Pump the brakes several times and holding them in, while they are pressed, open the valve a quarter of a turn and let more brake fluid and air out. Do this until only brake fluid comes out. The lines are bled!! (I had maybe an ounce of fluid per caliper in my bottle before no more air would come out). You can pour the excess brake fluid back into the resevoir and secure the cap. **This means buying brake fluid is optional. I did anyway just incase I needed it, but If your brake fluid level is fine and it is clear and honey colored, then you won't need extra brake fluid. Notice my brake fluid in the line and bottle in the picture.
7) Replace your wheels and enjoy!! If you are buying a brand new kit, you will have to follow instructions for bedding your brake pads to your rotors. On a take-off set, this should already be done, but its a good idea to warm the pads up by reaching 60 mph, then lightly pressing the brakes for a few seconds. Do this several times, then do 6-8 braking sessions by reaching 60 mph and then firmly pressing the brakes until you are at 10 mph (wait 30-45 seconds before each firm braking). Try to avoid completely stopping during this time. Let your brakes cool by driving at highway speeds for about 5 minutes and then repeat the firm braking sessions a few more times. You should be good to go. Take it easy on the brakes for a while
NOW! Since my Brembo calipers are black, I decided to paint my rear stock calipers. I used VHT caliper cleaner and caliper paint. Here is the easiest way to do it (notice I didn't say "best"...I am a ******* after all
)
I removed the rear wheels and sprayed the calipers off with the caliper cleaner. I used shop towels to scrub off the calipers, then applied another dose of cleaner. I let them dry for almost 3 hours (thats not necessary, you just want to make sure they are dry. Some people use heatguns or hairdryers). I taped the wheel well and rotors off with medical tape and shop towels...I told you I am a *******. Each rotor got 3 coats of caliper paint, and I waited about 45 minutes between each coating. It turned out awesome!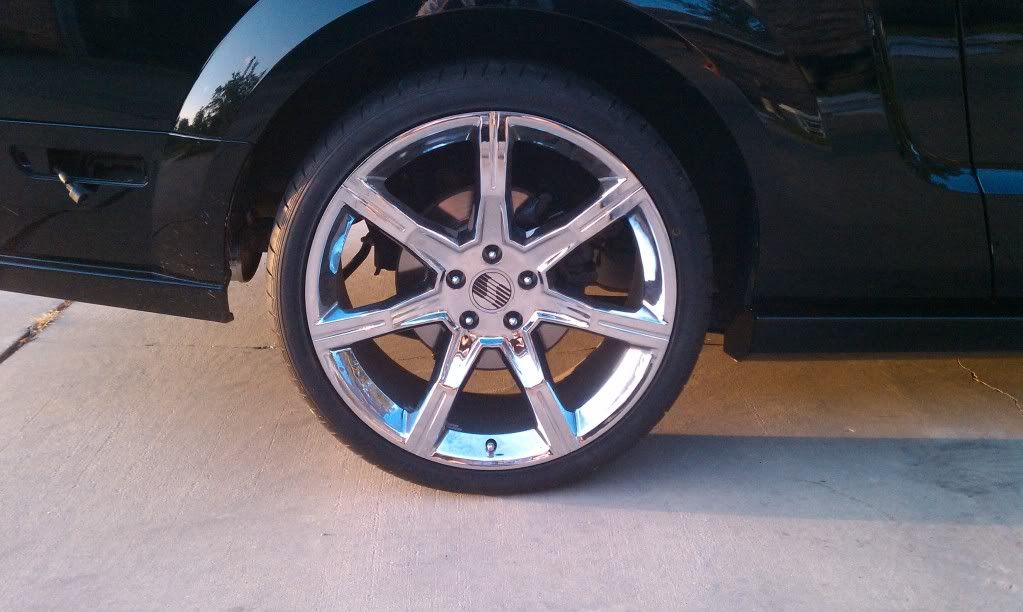 I hope anyone considering this upgrade will do it themselves and save some money! If you have any comments or questions, please feel free to hit me up