this is a write up for guys that want to know what it takes to do a manual swap.
the swap itself isnt all that bad.
parts needed:
interior:
shifter
manual pedal set
clutch cable, quadrant, firewall adjuster
manual shifter bezel
shifter base insulator
shifter handle
parts:
engine seperator plate
pilot bearing
clutch kit
flywheel
flywheel bolts
pressure plate bolts (10.5 and 11in kits are different size bolts)
trans
trans fluid
trans sensors (if not with trans, manual and auto trans sensors are different)
shift fork (if not with trans)
x-member if going t56
manual trans wiring harness
driveshaft (or change to a manual yoke)
things you will have to modify:
wire harness for trans (if you use stock auto main harness)
trans tunnel
tune/ecu swap
1:
disconnect negative battery cable
remove:
auto trans
trans cooler
trans cooler lines
starter
drive shaft
wire harness
shifter bezel
brake pedal assembly
2:
if using the manual wiring harness on the auto main harness, modify it. clip the ends off (leave enough wire on harness ends to splice), and slice wires together. the color codes are the same, so just match and go. the brake/reverse lights are controled from the signal from the trans. if you color match your splices, your lights will function properly with no issues.
3:
install:
brake pedal assembly
quradrant
firewall adjuster
pilot bearing
flywheel
the flywheel bolts are longer on the manual than they are on the auto's. a dealership can get them for you pretty quick. you can also opt for arp bolts instead if you want.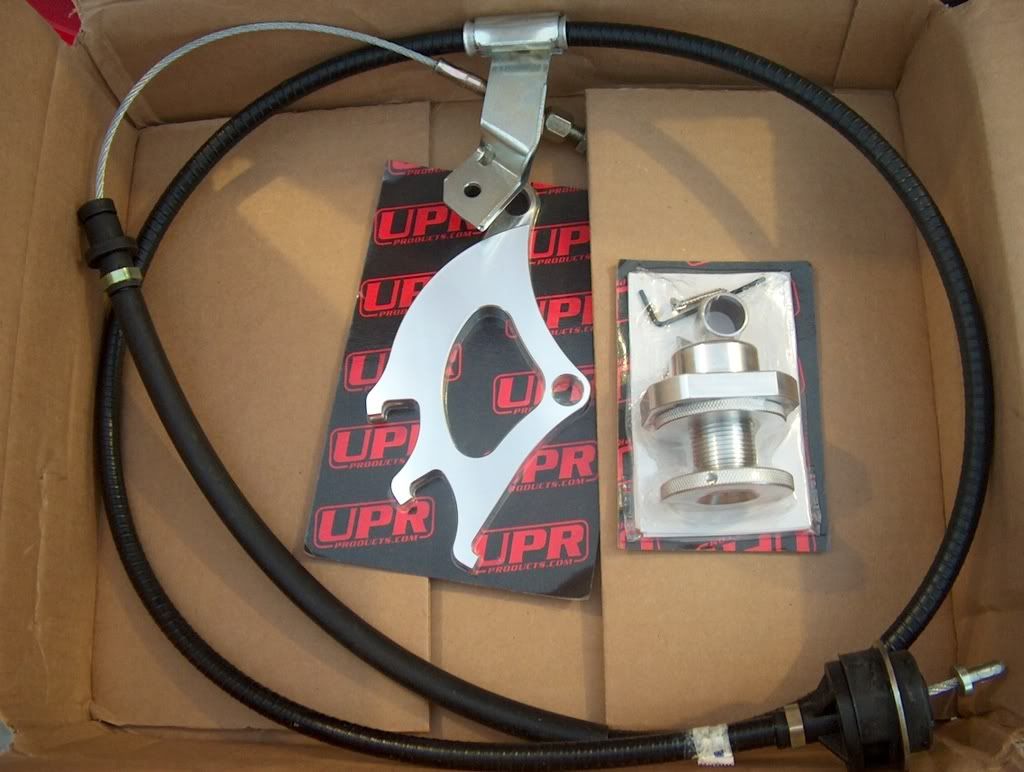 you will have to jump the neutral safety wire if i remember right, no big deal. the cables for the auto shifter neutral saftey switch will need to be tucked up out of the way and be in the park position. failure to do so will cause the key not to come back to the lock position. complete removal of auto steering column and cables to swap over to a manual set up would be ideal so you can have a key lock on the manuals.
4:
now you can install the clutch kit. you can get the bolts from a good parts store, nut and bolt place, or maybe the dealership (havent tried).
put the engine seperator plate in place, and install trans as well. be sure the clutch fork is in and the TOB is installed corerctly (it can be installed wrong) install the drive shaft, and fasten everything down. hook up trans wiring harness, and put up out of the way. the harness can be installed after trans is stabbed in, but can be a pain to install if trans is up and mounted.
congrats, now the heavy stuff is done
5:
the trans tunnel will need to be cut open a little to clear the shifter base for the manual trans.
its not much at all, about 3/4in tall and the width of the opening. be sure to cover the opening of the trans. drill 2 holes for the shifter base insulator. uncover the trans, and install the shifter. i personally fill the trans thru the shifter, so i fill before i install shifter. if you do this, be sure car is level as possible. be sure you use a gasket on the shifter as well, a thin bead of silicone will do as well (my method). install shifter handle and bezel.
6:
install the clutch cable, be sure you fasten down the cable to the frame. a little give in the cable will cause headaches when you go to adjust cable and shift. when you go to adjust/set you clutch cable, there should be about 1/8in slack total.
7:
now you can hook up the battery, install your tune for the ecu, and start her up. if the auto ecu is not tuned, you will have a couple lights flashing, speedo may read double, and might not be able to accept a tune correctly. if everything seems good, lower car and take for a drive. congrats, you are done.
avg time, about 10-16 hrs depending on your tools and experience.