Discussion Starter
•
#1
•
Ok this is going to be somewhat of a throwup of info and questions...
I'm pretty sure none of the 4 cam mod motors will fit with the shock towers at all right? I pretty much just want to get all of my info in one place.
I've heard its possible to clearance them but i think that's just for stut-type suspensions which i'm not sure but i feel are less adequate then the stock setup.
I'd really like to do the whole TCP coil-over front end with strut tower braces etc. but i just don't think it's possible to notch the fenders enough to fit.
It seems the R&C setup seems to have the least fitment issues, but is it as performance oriented as some of the others?
I really want to do the COYOTE aluminator swap but i'm not sure if i have the fab skills i need, i'm a pretty good structural welder and i've done jeep suspensions since i was 16 (built my own long arm '94 wrangler) but the tunnel mods etc scare me especially since the car i put an offer on is pretty much frame-offed and (because) body work scares me. It just doesn't have an engine and transmission. Should i just pass and leave it to someone that just wants a windsor 4 speed setup?? and find something less complete? It seems like i'll have a hard time finding anything for 17k in any decent shape anyway so might as well get the one with new rubber, interior fuel tank etc.
It seems that by wanting a 5/6 speed i'm going to have to do tunnel work anyway so some re-painting will be required... so might as well do the whole she-bang?
I will go ahead and admit i have pipe dreams for the car, i sort-of want it to be a jack of all trades kind of car. I would like it to be comfortable at the strip, road-course and a on the street so i really don't want to do anything that will alienate any of those.
The ideal goal is to get a coyote in there, drive it for a while for break in, and then start working on a twin turbo setup (this is sort-of my wheel house as my 05 legacy gt makes 412 awhp & 453 ft-lbs on e85 and is tuned by me) once that's done run it on low boost (5-6 psi) 99% of the the time and approach 20psi when the 1/4 mile comes calling but all that is ~ a year after i just get the engine in the car and enjoy it for a while.
Yes i can shift in the 1/4 pretty well.. atleast in a awd car:facepalm:
just to not be overly noobed.... i have a '57 tbird my dad and i restored as a kid, both my parents have passed this year and driving the bird makes me want to have my own car that i don't feel like i'm perverting my dad's wishes when i modify... he had a '67 s code when i was a kid and that has been my favorite car since. My goal is to have mine resemble it but turn, stop, and run like a newer car and if it proves reliable possibly be given daily duties. (i'll still have a 99 f150, a 05 subaru, and a '57 t-bird should it not prove to work well in that roll)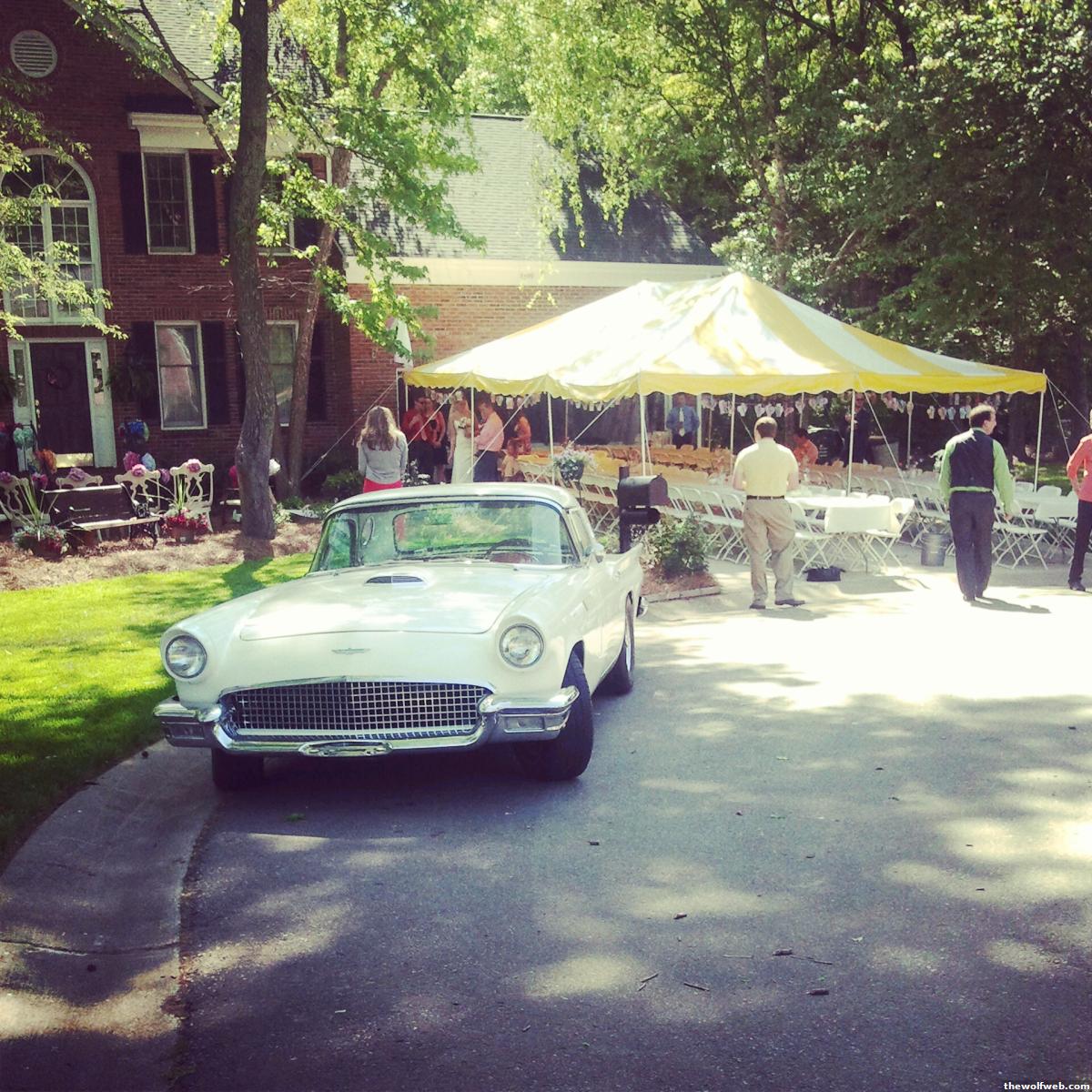 here's the t-bird at my wedding....
and yes... i know... its an odd rendition of a bird but dad loved it and so do i.
and a pic of the '67 taken in about '85
i know kinda :screwy: but let me know thoughts / opinions