Sonic Blue for Ms Thirty Two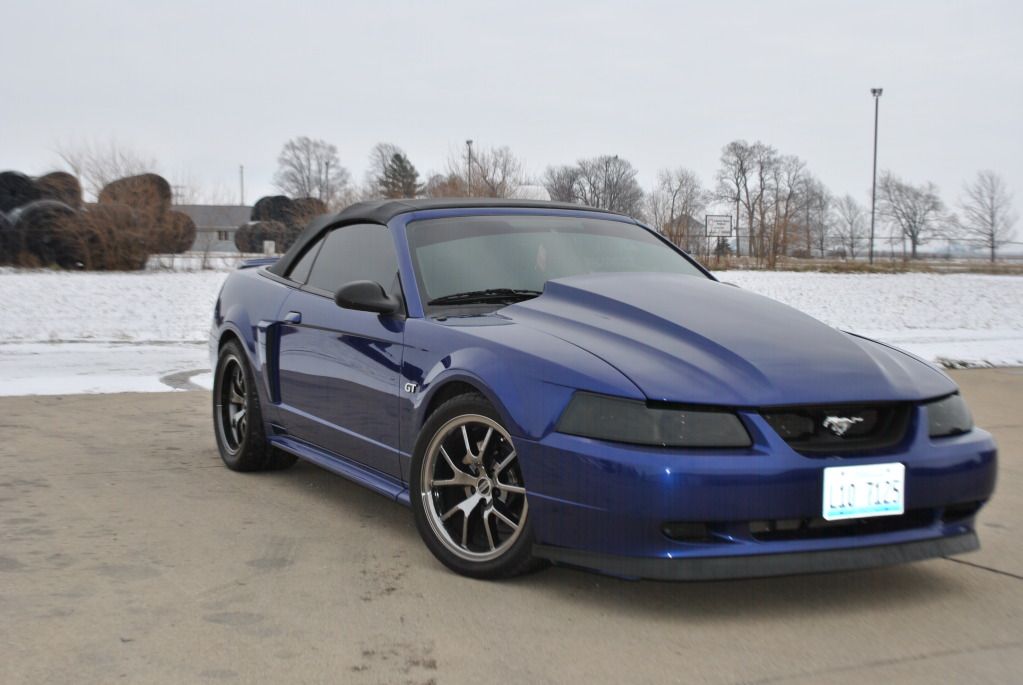 She saw you on the showroom floor
She walked around to your door
You let her in, then it began.
It was like a dream come true
For she used to dream of you
Your sweet & smooth sonic blue
Was made, for Ms. 32
Early in her life, Mustang Girl 32 realized she was different. Unlike her brother and father... she had an eye for Mustangs. Her family, being bowtie lovers, would tease her every chance that they could, but that didn't quell her affection for the Mustang. She started with a V6 and was looking for another car when her fiancè told her about about one at Ford City. At first she shrugged it off, but on the way home from class one day, she stopped in to look and the magic began. She simply couldn't take her eyes off of it and drove her home the next day. The ride home that night with the top down is something she believes she will never forget.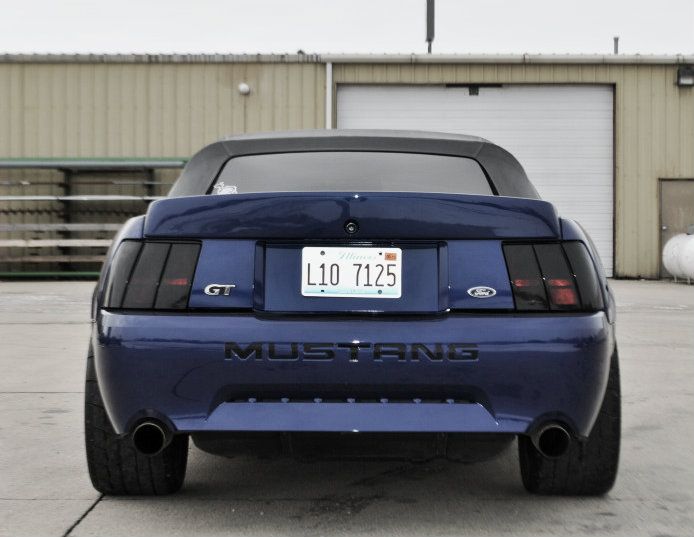 This 2003 Mustang GT convertible quickly began transforming into the car it is today. The first mod was tinted windows and then the rims were changed to a set of deep-dish black bullits. Of course, now the car just had to be lowered and was accomplished with a set of H&R SS springs. Performance mods were next and began with and upgrade to the exhaust system. It took a few tries before finally settling on Mac LT's mated up to an X-pipe that feed the SLP LM1's for a ridiculously loud raspy note that she "Absolutely loves". This began what has become a whirlwind of modding. Trying out parts and occasionally swapping them out again, to find that piece that looked just right, was the order of the day.
In the end, no one knows what it will look like or how fast it will go. Mustang Girl admits that as long as there isn't a cure for the "Mod Bug", it might never be done. However, what she has done so far earned her the win in the Modded Mustangs "Topless" ROTM competition. The rather extensive list of mods that follow can only assumed to be, temporary.
Tinted headlights, Taillights, Fogs and Reflectors.
Kaenon 4.5" Cowl Hood.
'03 Cobra Spoiler without the 3rd brake light
FR500 Black Chrome 18"x10" 315/35/18's Toyo Proxes Out Back, 18"x9" 275/35/18's up Front
SVE Style Bar
Team Z K-Member, Control Arms & Bump Steer Kit
MM C/C Plates
Tokico Illumina Struts
MMR Coilovers
UPR LCA's
4.10's
MMR Rear Seat Delete
Reverse Glow Gauge Overlay
Glowshift Oil Pressure, Oil Temp, Narrowband and Boost Gauge's
Pioneer Double Din HU
MGW Automatic Shifter Handle
UPR Cup Bezels and Light Knob
P1SC Procharger
39 LB Inj
NGK TR6 Plugs
Division X Pump
SCT Tuner
Anderson Power Pipe
(These mods are good for 353hp/347tq through her auto, tuned by the "man" Bob Kurgan)
Moroso Brake Resivoir and Fuse Box cover
Optima Red Top
MGW Oil Cap and Dipstick
Custom GT Hood Liner
Custom "Mustang Girl 32" Etched Radiator Cover
These are the items waiting to go on the car:
BBK Strut Tower Brace
Canton P/S & Coolant Expansion Tanks
99/01 Cobra Front Bumper
Mustang Girl's further plans include racing seats and beefing up the rear end. She has considered building a motor, but with only 45k miles on her baby, she has plenty of time to think about it. Mustang Girl would like to thank her fiancé Sheldon and her brother. For without them, the car wouldn't be what it is today and she could never repay them for all they have done for her and her Mustang.
From ModdedMustangs.com, Congrats Mustang Girl 32 for your October's "Topless" ROTM win.