·
It's in the details Mod!
Discussion Starter
·
#1
·
Well some of you already know that I retired the Cobra and bought a 2007 Toyota Highlander. Got for a steal, but it was nasty. So bad my fiancee thought I made a mistake and paid to much for it. Now that it is cleaned up she loves it.
The previous owners have two huskies which go everywhere with them. The car never had a good cleaning, just touchless washes. Two inches of dog hair filled the underseat areas. The carpets, seats, plastics, and head liner were all covered in dirt, hair, and dog slobber.
I am sorry I do not have any before pics, they are on my good camera, and I don't have my computer to upload them. So all of this is done from my phone including the pics.
Anyway, I did not have time for a full correction, and am out of XMT 360, so I decided to just wash, clay and seal. I was going to use DP Poli-Coat, but I stopped in to Advanced to get a new cabin air filter and saw 1 bottle of Collinite 845! So after all the talk on here I decides to give it a try. Happy I did.
So let's start off. The car first got a bath in dawn and Zep citrus. It also got a zep presoak. After that I broke out the Meguiars clay. Yuck! The car was heavily contaminated.
This is the clay after a 2'*2' section on the hood.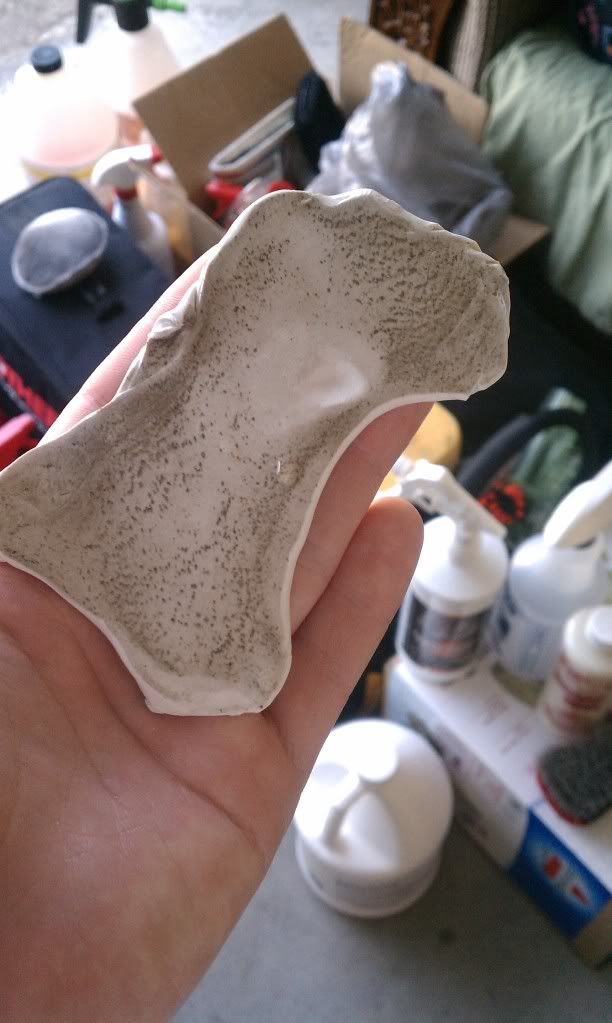 This is the clay after a spot on the roof.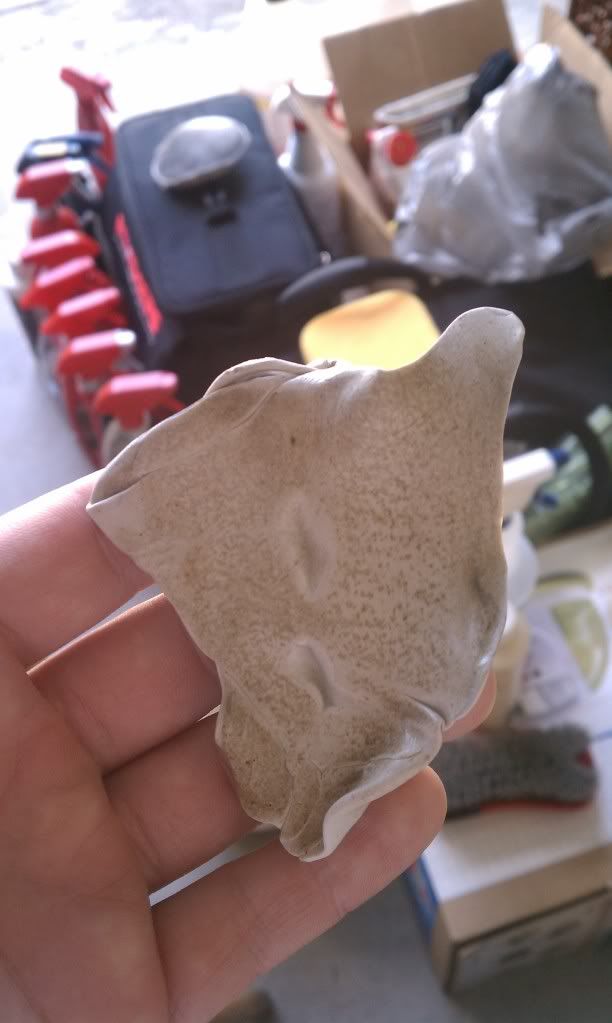 Here is some of the contaminants.
I had already spent two hours vacuuming, two hours and 52oz of citrus cleaner on the plastics, and close to a half of a gallon of Folex just trying to get the interior clean. The water coming out of the seats during extraction was beyond disgusting.
I will try to upload pics when I get to my computer of everything.
Here are a couple of the finished product.
Other products used were DP waterless as a clay lube, Mothers Advanced Tire Care, Mothers FX Wheel & Tire Cleaner, Adams VRT, and DP Extractor pre treatment.
I applied the 845 with a Megs MFDA finishing pad. I wanted to see if it would help clean the paint. It seemed to help.
All in all I like the way the 845 looks, and can't wait to see how it holds up.
My fiancee thinks its a new car!!!!!
The next morning it rained, so I ran out to dry the car, and saw this nice beading. The side panels were completely dry!!!!