Discussion Starter
·
#1
·
I cant start my car to save my life.
it's got a holley 2bbl from an f100 a pertronix flame thrower dizzy, accel coil, new motorcraft plugs, new fuel pump, good starter, good alt, it's got a roller from a 94-95 gt i'm pretty sure i got the firing order right. 1-3-7-2-6-5-4-8
But it just sounds so heavy when it tries to start. Thoughts?
[ame=http://s693.photobucket.com/albums/vv293/707Stang/?action=view&current=Video0027.flv]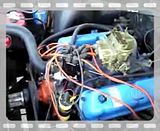 [/ame]