I am new to this forum, but not new to the mustang life. I have my stang since 99. I am the original owner of this thing. But I haven't driven it since May, haha. I was reffered to this forum by another member norcalam2.
I am not promoting anything with this picture, it was done on a private lot. (MINE)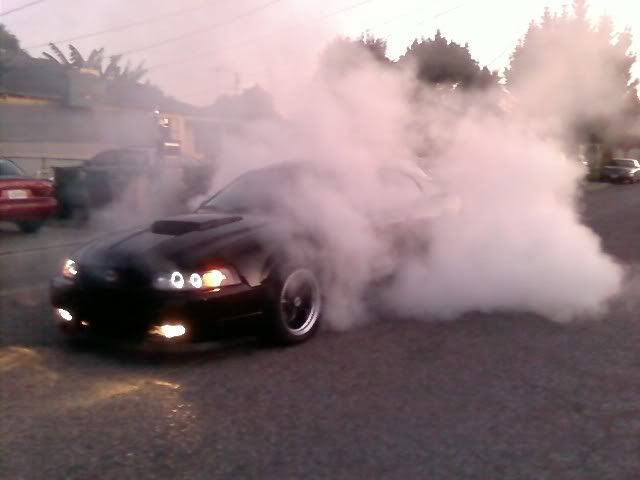 MODS OLD:
MM grip box standard.
*PHB
*Strut Tower Brace
* Tubular K-member w/A arms
*Bilstiens coil overs 3inche up front/2.5 rear drop
*Full length sub frames
*Torque arm
*Chamber plates
*Kenne Bell Ram Air Intake
*PI intake Manifold
*FR Shorties
*24lb injector w/96cobra mass air
*Basani Off road X-pipe
*TKO 500 w/Tri Axe
*MAC pulley kit
*4.30 gears
*17x9 black bullets with 275/40/17 up front
*18x10.5 black bullets with 295/35/18 rear
* 2 chamber flows with black chrome tips.
*Chromoly Drive shaft
and my favorite mod was the batsymbols.LOl
Coming soon:
* 14psi vortech v3 w/after cooler
*MAC long tube headers
*patriot stage 2 heads
*04 cobra crank
*forged internals
*42lb injectors
*04 cobra feul tank w/dual pump
*04 cobra mass air
*8 rib pulley kit
*steeda alluminum radiator
* maybe some 3.73's if anyone is up for trades....
* maybe some 18" black saleens if anyone is up for trades...