Let me start off by saying, I JUST cleaned my IAC and MAF today. I used carb cleaner, just the generic off brand. While I know that the New Edge's have quite possibly the worst air conditioner and sap a huge amount of power (or at least it seems in all the New Edge's I've been in), this just doesn't seem right...
Video is self explanitory.
Edit:I jsut watched the video... In the car, it's more dramatic. The idle would sometimes bog all the way down to 500 rpms. The car was quite warm after this video. It happened real bad on a cold start...
Basically it would surge to 900 like in the video, find it's idle, then bog to about 500, then find idle, then repeat.
Any ideas on the culprit?
[ame=http://s273.photobucket.com/albums/jj222/zinc02gt/?action=view&current=SDC11091.flv]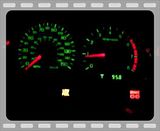 [/ame]