Discussion Starter
•
#1
•
I know the usual issue with the water draining into the passenger side foot well. I keep those front drains clean, and I park in my driveway with the nose pointed downhill. (Otherwise I still get water in when it rains, even with clean drains)
This issue is supposedly convertible specific; I collect water right behind the front seats, in the body panel, just on the outside of those speakers by the rear seat. The water gets in along the joint between the top and the body panel. Water runs off the roof and back glass, then it drains through somewhere. But apparently over the years leaves and junk have clogged my drains.
(Not my car shown) this is about where I hear the sloshing, in red. The water is probably collecting around the yellow circle somewhere in the body panel.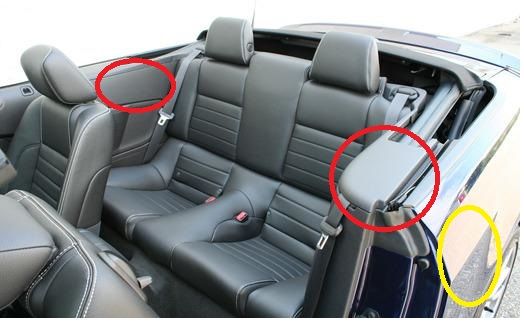 I talked to the dealership a few months back when I was having this issue, but it didn't rain too much over the winter, and I didn't notice it as a problem. They did mention that verts have a drain that exits either in front or behind the rear wheel well. It seems it drains just before the wheel. But it's hard to tell. The dealer said the only way to access the water is to take either the interior out or maybe take the body panels off. I don't really remember what he said, but it sounded difficult (expensive for them to do).
Now I have water sloshing 24/7. It rained on Friday night and I still had water until I washed my car last night. Now I have noticeably (audible) more water.
It's downright infuriating. Washing my car is no longer pleasurable because I know that I will just have water behind me for....ever it seems. It's a good amount of water too. Solid sloshing.
The problem is worse on the driver side than the passenger side, as the passenger side must have less of a clog. It does drain, but very slowly. My driveway is soaked under my car, around where I mentioned the drain port may be. The water doesn't seem to be getting into the passenger compartment anywhere, so that's good.
I'm considering this; I'll lift the car up, then use a power drill to bore the drain hole out. I mentioned this to my dad, but he is concerned that it could create a spark by the gas tank...I don't think this is a realistic concern, is it?
Besides drilling out the hole, is there anything else I can do?
Any sympathizers out there having this same issue?
Fun little aside; one time after a rain, I had water under the passenger carpet, and something electrical got wet and basically the power stayed on to the radio, window controls, and temperature controls. Fun fun fun having the power stay on with the key out and the door open. It magically resolved itself after a day, once it dried.
Cliffs/TL;DR: Water is pooling up in the body panel beside the rear seats, how can I fix this?