SHOWROOM:
RZNCAIN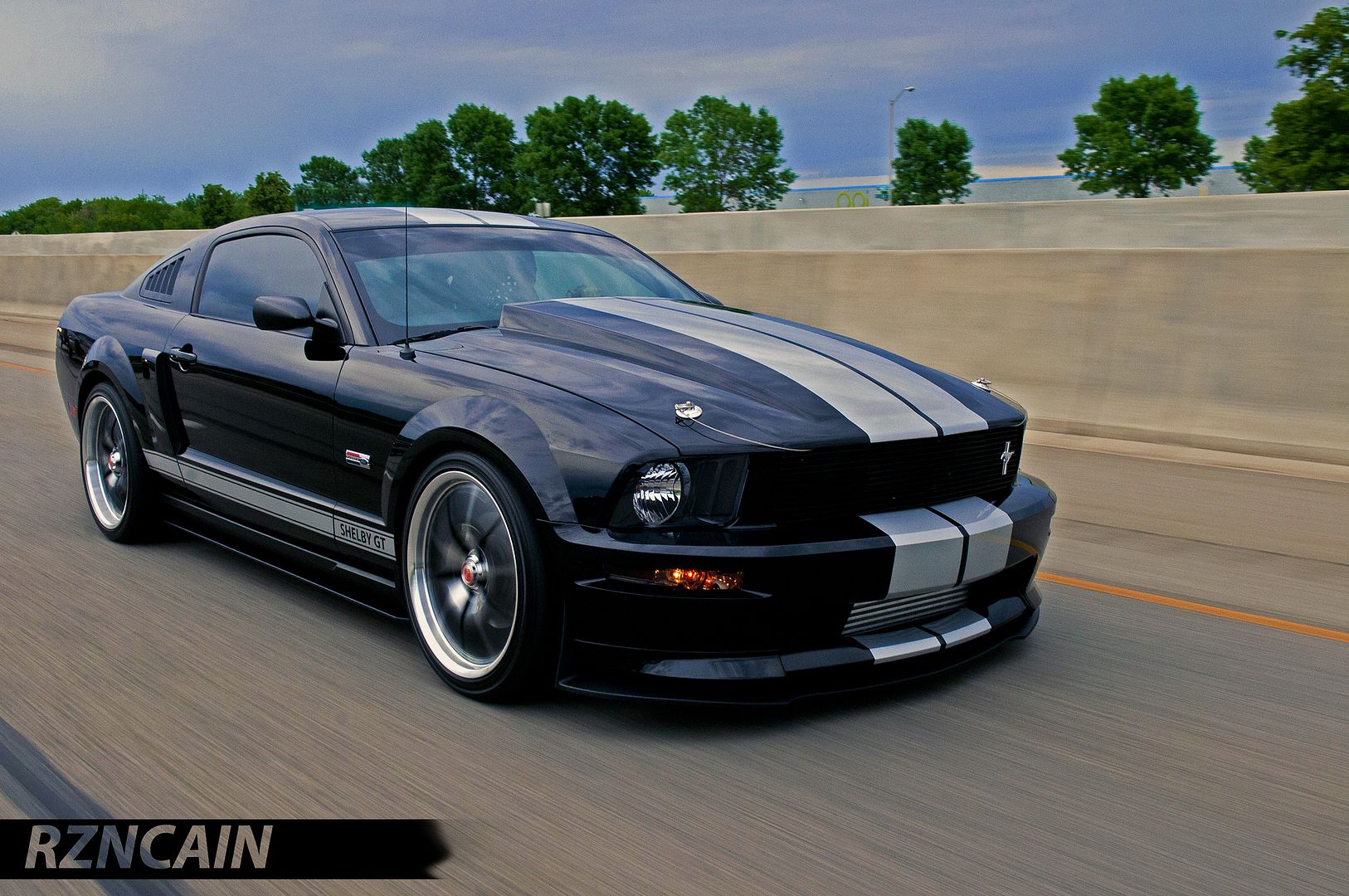 Specs:
Screen Name:
RZNCAIN
Given Name:
Mike S.
Origin:
Wisconsin
Aliases:
RZNBRAN, RZNBRAIN, HARDPARKER
MM Registration Date:
July 2010
Model:
2007 Shelby GT # 3892
Horspower:
N/A
E.T. :
N/A
Modded Mustangs Honors:
September 2011 ROTM , August 2012 ROTM co-winner, 2012 ROTY
For some, cars are just a humdrum commodity - a means to get from A to B and back. Blending in, dull and boring are completely acceptable and willingly tolerated. For others, cars are an object of passion, an addiction and a projection of ones own personality. Wisconsin's Mike S. (aka:RZNCAIN) is the epitome of such an automotive aficionado. He has built the machine that so many of us only dare dream of.
RZNCAIN's Shelby GT #3892 has made the arduous journey from stock to jaw dropper. Stunning silver stripes traverse a sea of flawless mirror black. 20" CS40 wheels gleam at each corner while holding true to their Shelby roots. The stance signals aggression. Low on its haunches this mustang owns the stance others imitate. Under the Cervini's cowl hood is a masterfully presented and absurdly clean 3 valve. A black powder coated Paxton 1200 SL's presence is understated amid a generous sprinkling of billet and red powder coated components, that is until throttle is applied. The interior features a take-off 2008 Bullitt dash and a dusting of billet pieces. A white Shelby cue ball rests atop the Hurst shifter begging for a heavy footed suitor. RZNCAIN plans to further mod the car while keeping homage to a Ford racing legend. On the docket is an SOS pillar mounted gauge pod and a bump in boost paired with methanol injection. For his all out approach to creating the perfect pony, RZNCAIN has earned a spot in MM's exclusive Showroom.
Mustangs are an amazing hobby and for the enthusiast, they transcend the sum of their machined components. RZNCAIN grew up amidst hardship that would lead a lesser man or woman down a path to self destruction. Instead of succumbing to the ways of his guardians, he rose above and blazed his own trail to a life he could be proud of. To him, his Shelby GT is more than just a cool car. It is more than just beautiful black and silver paint draped over skillfully sculpted sheet metal. It is his prize for doing the right thing and for breaking the cycle. This is RZNCAIN's legacy, a legacy of being true, a legacy of never settling, a legacy of never letting down the ones you love. Mustangs are art and art imitates life. He will use his passion to pass on the noble values he has learned the hard way to the most important one of all, his son, Cain.
Current Mods List:
-Paxton 1200 SL intercooled
-Cervinis 2.5 cowl hood
-Shelby aluminum hood pins
-Agent 47 mirrors
-Silver Horse Racing flush mount louvers
-Shelby CS40 wheels (20x9, 20x10)
-SD Hidden Foglamp Grille with Shelby pony
-VHT tinted Foglights from NTO
-Lower facia painted with stripes continued to bottom
-Shelby GT500 splitter (modified to fit)
-Tinted markers
-Dash board out of 2008 Bullitt
-Leather wrapped wheel (from bigpappy33)
-Shelby GT floormats
-Shelby dead pedal
-Shelby E-brake handle
-UPR cup holder delete
-Powered by Ford badges
-White Shelby cue ball knob
-HydroCarbon center console, radio bezel, and steering wheel spokes
-Redline Goods shift and E-brake boots
-2010+ Mustang side skirts (modified to fit)
-2010+ Mustang CDC/Roush side splitters
-Custom RZNCAIN trunk emblem
-BOSS strut brace
-Carbon Fiber radiator cover
-Redline hood stuts
-JLT oil separator
-Pypes Bomb axel back deletes
-Shelby billet engine caps
-AM stut tower decorative caps
-Custom shortened antenna
-Windows tined 20% rear and 30% front
-Everything under the hood either custom painted or powdercoated
-Moddedmustangs.com sticker
Pic Gallery: