I'm gonna be working on this off and on over the winter leading up to me finally joining the ranks of the blown mustangs.
I started with mostly appearance mods because this is my daily. I only did modest performance mods initially... now I want it all.
One thing I'm most proud of is the only thing I paid someone else to do is my gears, paint work, and my hood pins. Everything else, I've got my hands dirty and did it myself... either with a buddy guiding me or paging through the instructions from this forum or from AM.
First a couple of pics of her the day I got her (came with rims, lowered, Magnaflow axlebacks):
Marking it as mine:
Here's a list of mods as it stands right now:
Zoom Zooms:
C&L Street Cold Air Intake, O/R X-pipe, Magnaflow mufflers, Ford Racing 3:73 gears, FRPP M-5300 K springs, J&M Adj. Panhard Bar, SCT3 Tuner with Bama performance Tune, Hurst Billet Competition shifter...
Wham Whams:
Functional Ram-air fiberglass hood, Agent 47 mirrors, Lowered 1.5", 20" Zenetti Throw Back's, Carbon fiber interior trim, Kenwood Echelon in-dash Nav/CD/DVD player, Gen 5 CFL Halo headlights, Clear smoked turn signals, 2010 style smoked taillights with sequential wiring, Shelby Hood pins, Eleanor grille, tinted fog light covers, bullit fuel door, Convertible styling bar, radiator cover extenders, battery and master cylinder covers, Plenum cover with throttle body extender, Fuse box cover, Painted brake calipers, Strut tower brace, moroso aluminum expansion tank and power steering tank, carbon fiber fuel rail covers, yellow door piping, Black and yellow sickspeed shift knob, black billet upper & lower front grilles with hidden fog lights, GT500 front air dam...
In the garage: Steeda Underdrive pulleys, J&M rear LCA's, Steeda CMDP's, & BBK 62mm Throttle body.
Going to work on it:
No Pics of it, but the first mod was 3:73 gears
then it was some appearance and a little performance:
cracked vinyl stripes taken off and Agent 47 mirrors added
Shaved the emblems and added a shorty antenna to get rid of the stock fishing pole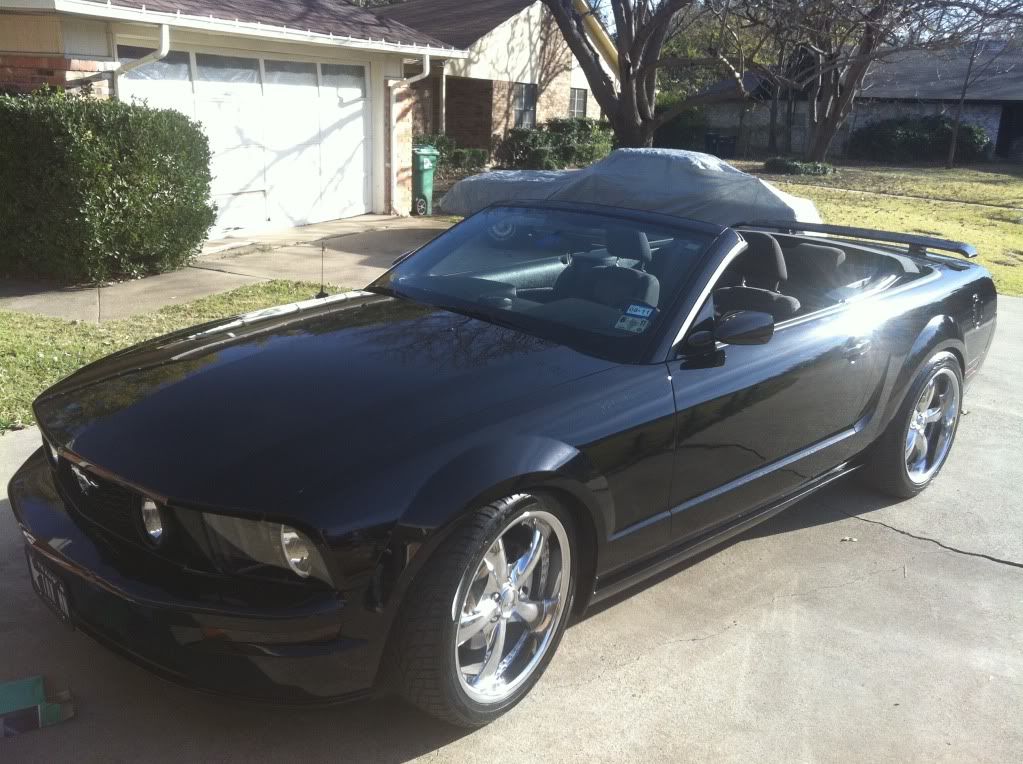 CAI and a little engine dress up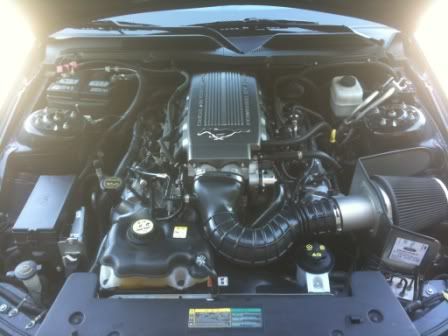 New stereo:
Next was the new hood:
new head lights (yeah I know you ****ing hate them)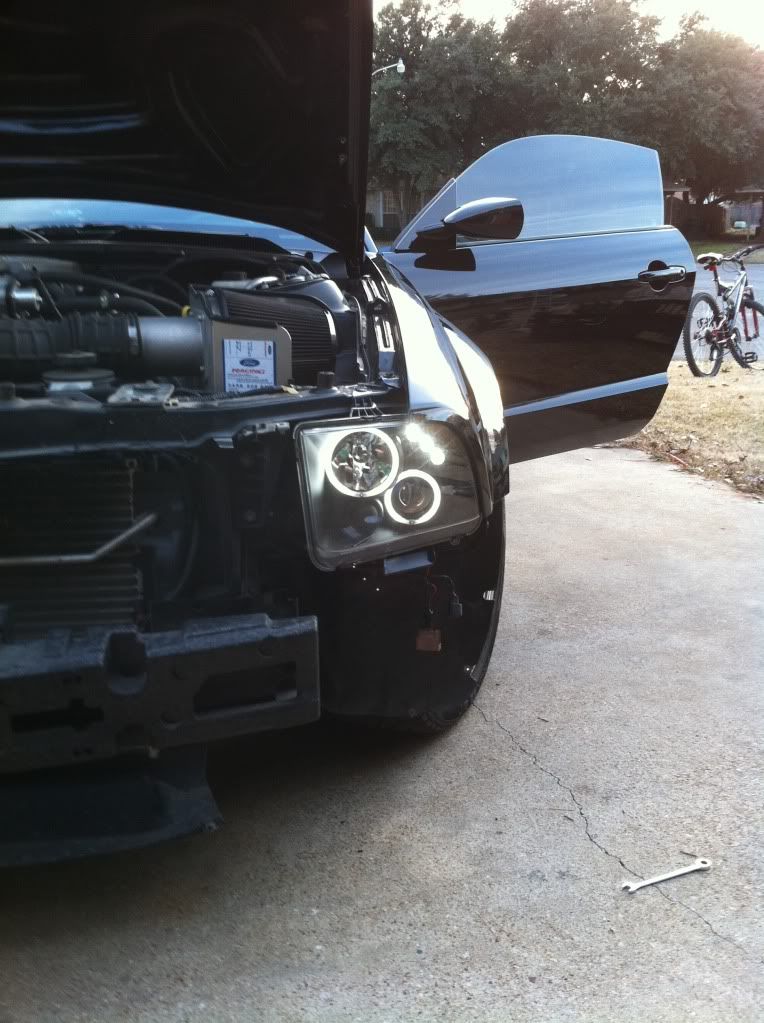 Painting the calipers yellow: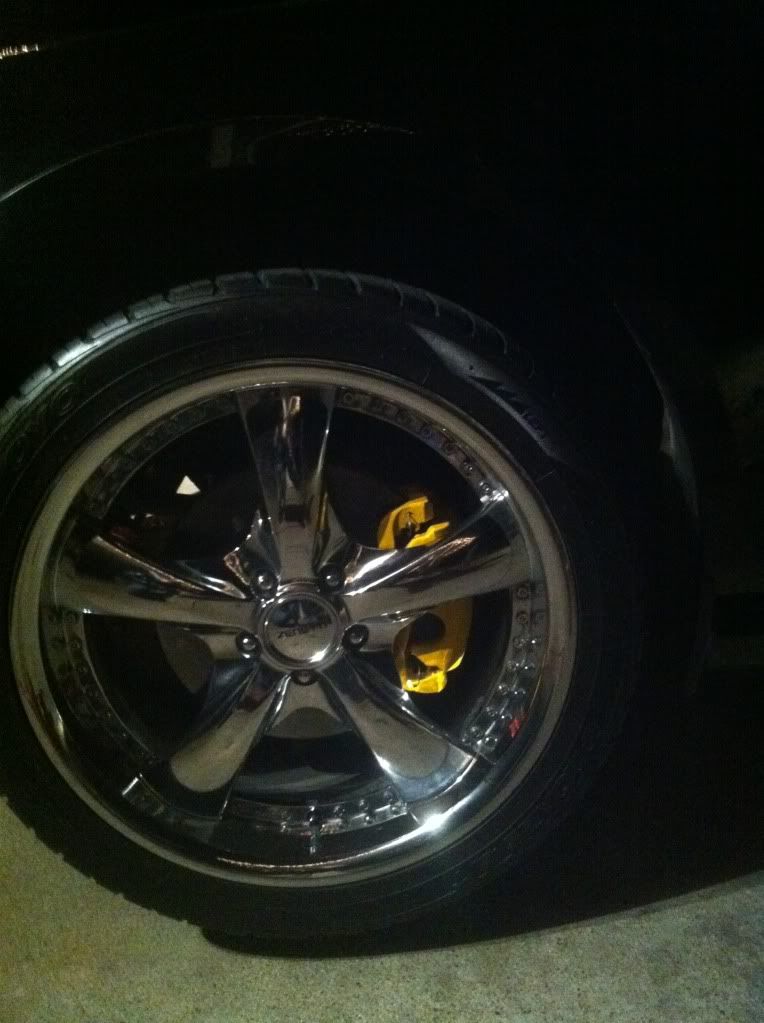 BEST MOD EVER:
New CAI and some more yellow accents:
Every convertible needs the styling bar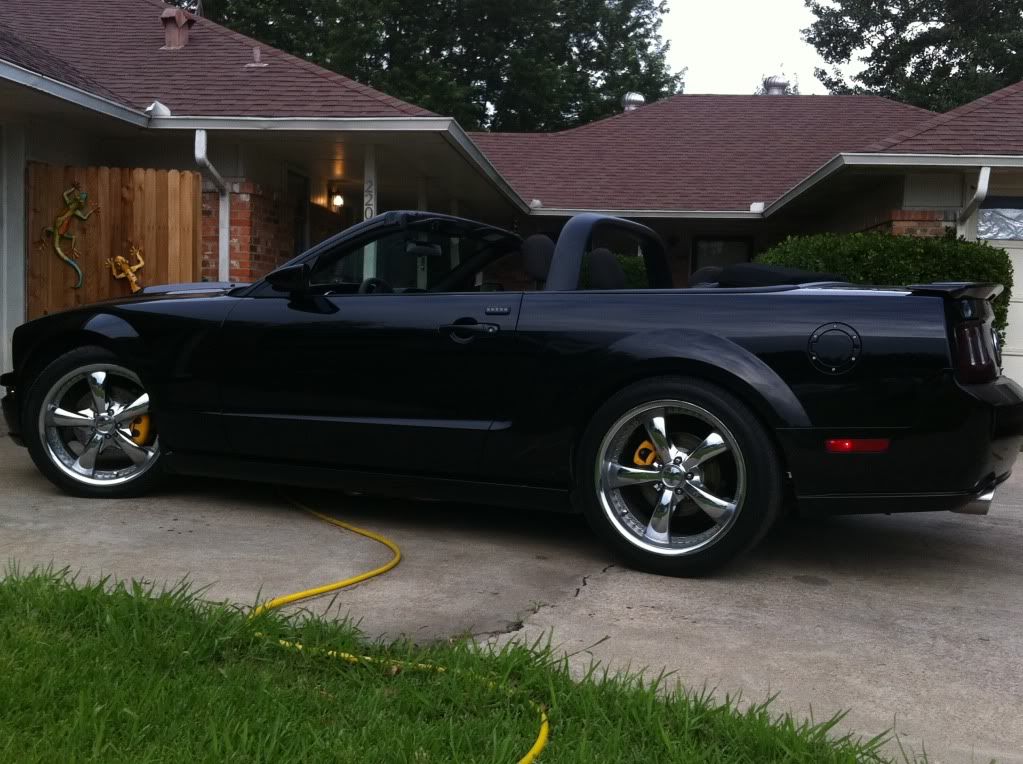 Added a Hurst: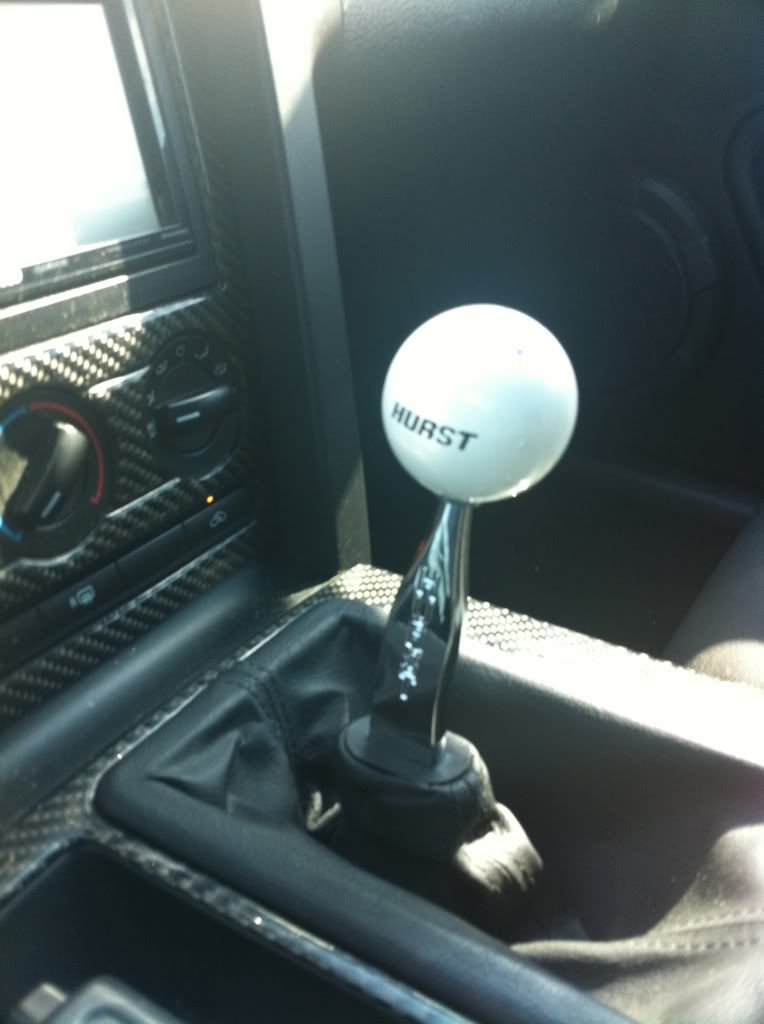 swapped the stock gauges for a mycolor cluster:
Did some more work in the engine bay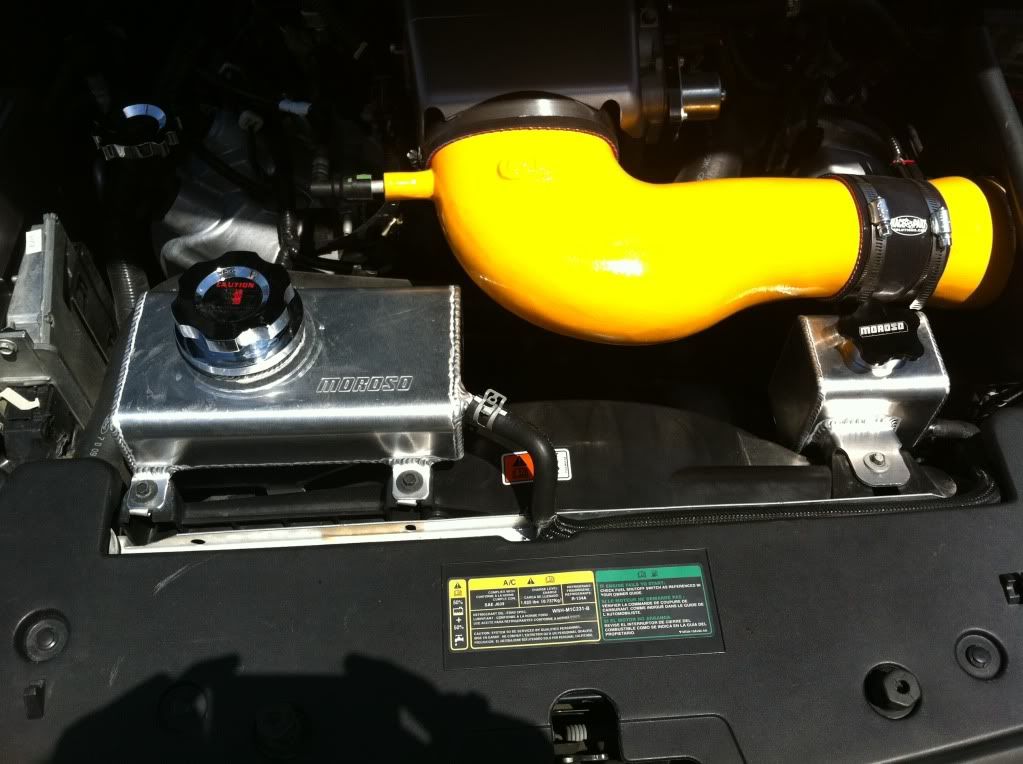 painted the covers black and added fuel rail covers
Working on the interior trying to add the color scheme that I'm looking for:
Hated the GT spoiler, switched to the pony package spoiler and added a billet fuel door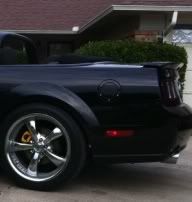 Dumbass that had it before me lowered it without an adjustable panhard bar... here's a J&M one fixing that problem:
Threw on some 2010 style smoked tail lights and painted rear emblem (thank you Krylon)
Added an Eleanor grille, but I didn't love it. Switched to a billet grille a month ago with hidden fog lamps
now
added a GT500 front splitter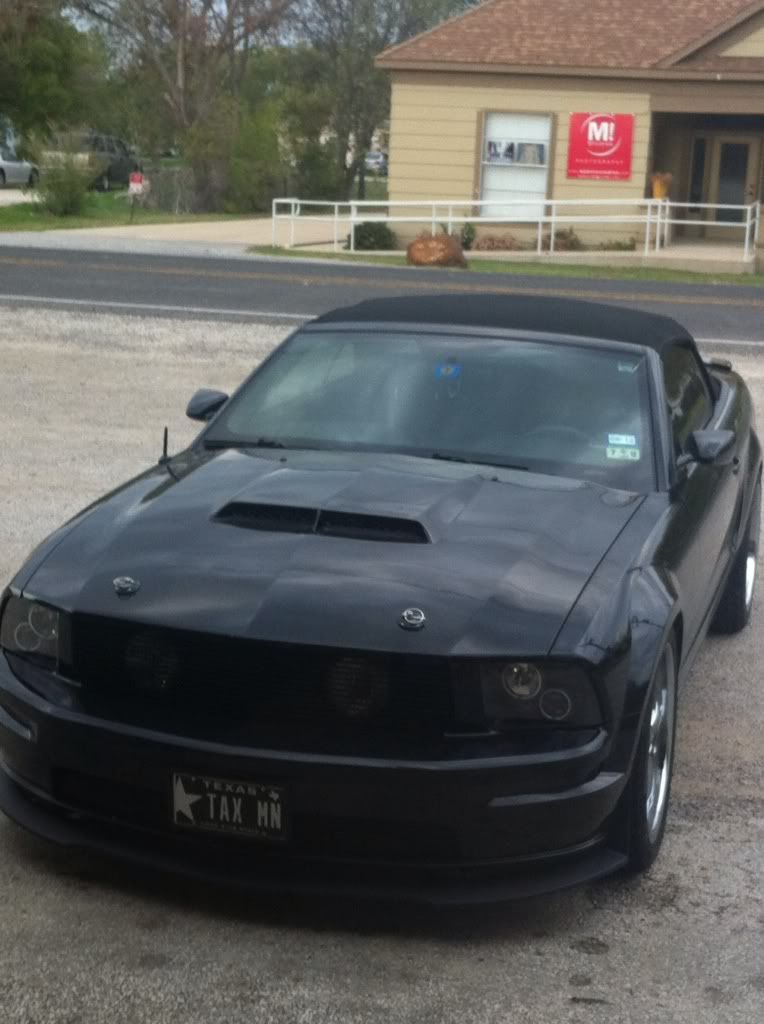 swapped the stock H for a rusty x pipe I got from a friend
Matte Black stripes going on:
cutting a pattern for the scoop
finished product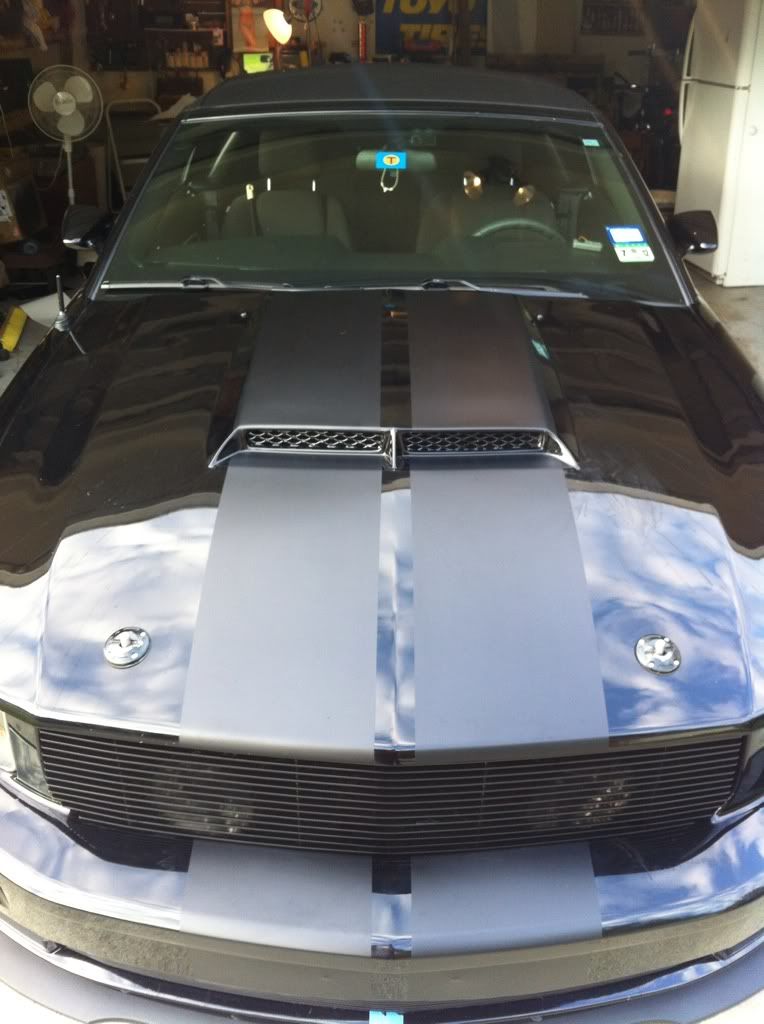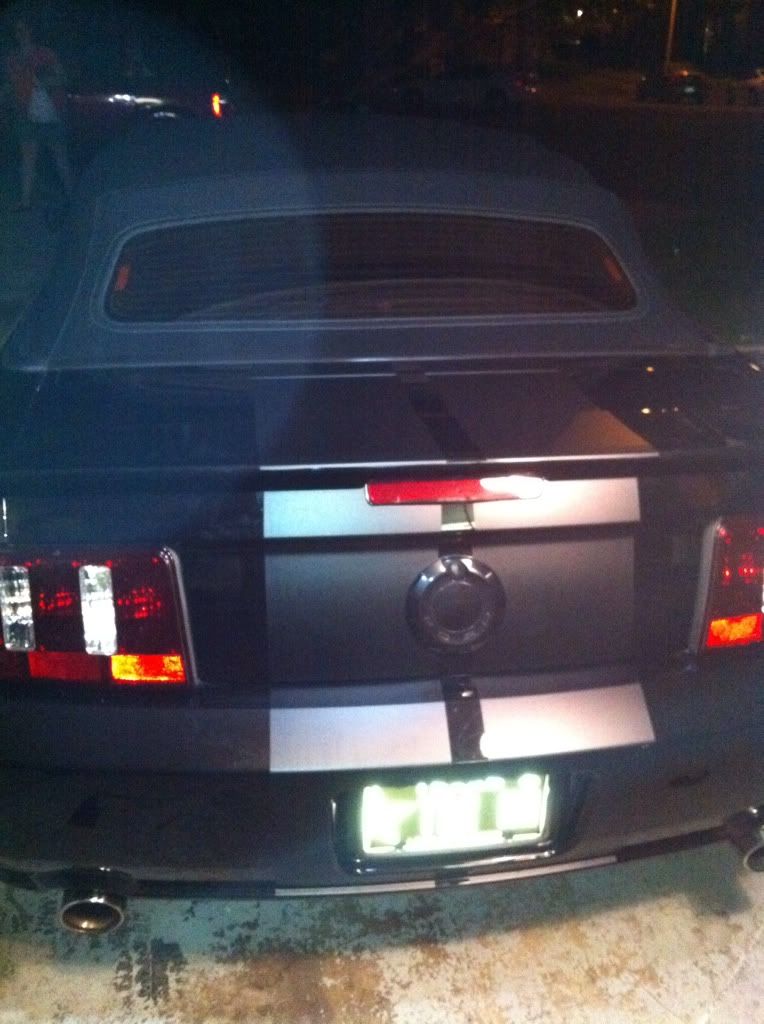 First car show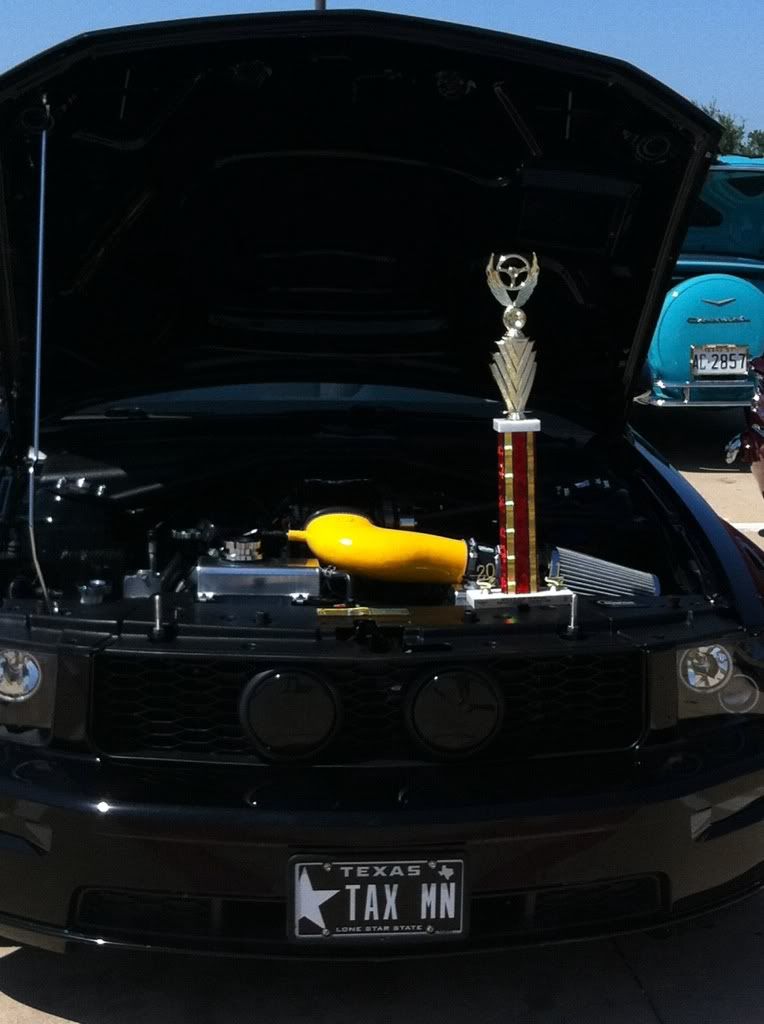 Dyno Day
: 291rwhp/306 torque
First track day
ran a best of
[email protected]
this is me beating a 2010 GT with cams (pissed him off)
and now I'm ****ing bit with the power bug. Vortech V3 going on this spring!!!
12/06/2011
Added a BBK 62mm throttle body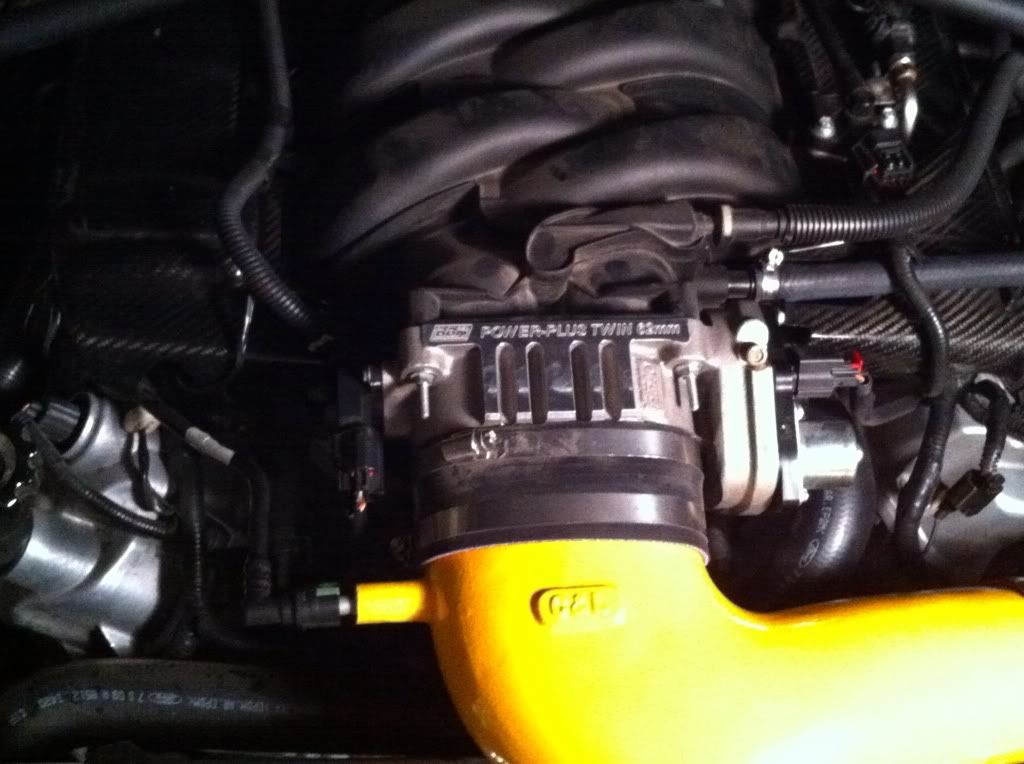 Threw in some Steeda CMDP's
Had my plenum cover trimmed and painted along with the fuse box cover.