Discussion Starter
·
#1
·
So the car is my 2001 v6. all i have under the hood is the CAI at this point.
I bought a set of header to muffler custom fabbed pipes (no cats) sorry i dont have a picture of them at the moment. I got my car smogged today so im not worried about not having the cats till next needed smog. These pipes have the holes on each pipe for the 02 sensor. My question is, will i need the MIL eliminators? Am i going to have my check engine light coming on?
I also bought a set of pipes off ebay. they were under $100 shipped, and i will be taking these magnaflows off and putting my thrush's on.
These are them.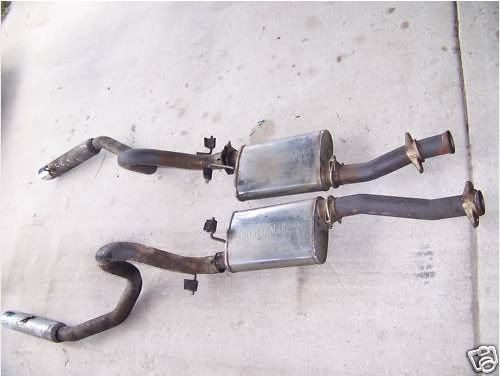 So my plan is to do this all myself. The pipes from the header to the mufflers, and back out to the tips. Am i going to need anything? Aside from hardware. Will i need gaskets? A new hanger set? MILS?
All help is appreciated, as I installing this system this weekend... I'll have a video clip for you guys too.