Far and away the most recognized characteristic to any Mustang is its sound. Most enthusiasts can tell they are near a Stang simply by the notes coming from the exhaust tips. A select few have made that sound almost orgasmic. For the July 2013 Ride of the Month, the Moddedmustang.com community was asked to vote for the best sounding car out there. The winner, Ryan M. of New Hampshire, aka Faym 08, shows it's the simple ways to get a good sound.
Ryan's journey owning a Mustang is a familiar one. His previous car, a 2004 GT, served him well until he and his wife welcomed their twins into the world. The need for something a bit larger was solved by trading the GT for an Excursion. Three years ago, the itch for a Mustang returned, so the search began.
Finding a good value in the Mustang market, Ryan stumbled across his 2008 GT in completely stock form. The previous owner had put 8,000 miles on it, but Ryan felt it was time to get moving. Over the last 3 years, mods include a set of Hot Rod cams, Kenne Bell supercharger, and MGW shifter. His car is lowered with an Eibach pro kit with BMR lower control arms and rolls on Forgestar f14s.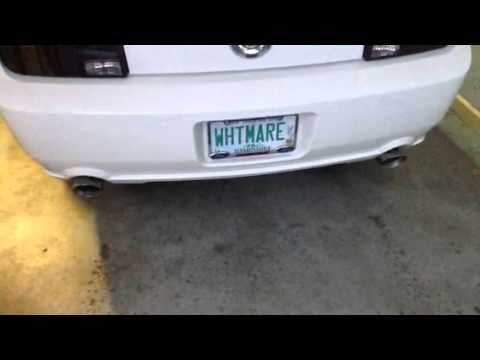 …but the real reason he won for Best Sounding? A set of Kooks long tube headers matched with an off road h-pipe. The final piece of the exhaust that gives the pony its character has to be the axle-backs. Ryan chose the Corsa Sports to help give his 3 valve that signature sound. With the video to back it up, we congratulate Faym08 for winning July's "Best Sounding" ROTM.
article written by: Marc