Some folks have a "Weekend Warrior". Usually these cars are only enjoyed on the occasional weekend or when the weather is nice. These regularly share their stable with what we would normally think of as daily drivers. Nothing special, just something easy on gas to get you from point A to point B. Other folks can't resist the need for speed and strap themselves into a fire-breathing beast every time they get behind the wheel. This is just the case for our very own BlackWidowStang. His efforts not only have materialized into a stunning steed, but also a win for Ride of the Month for February 2014!
Corey's love for all things Mustang began after acquiring his first car, a 2004 v6. There were a few mods done to the car to help it out. Then, the inevitable want to upgrade to something more overcame him when he came across this shining, 4.6L powered beauty in December 2011.
He dove right into modding the car a month after it was purchased. His ebony pony quickly lost all of the chrome that graced it's beautifully sculpted body and was shod with a gorgeous set of gloss black AMR wheels. The front end received a grooming by way of a black billet grille, Raxiom smoked headlights, and a Boss 302 lower fascia. But, he didn't stop there! You can trace the flowing silhouette of this pony back to a GT500 spoiler that shades a pair of smoked tail lights.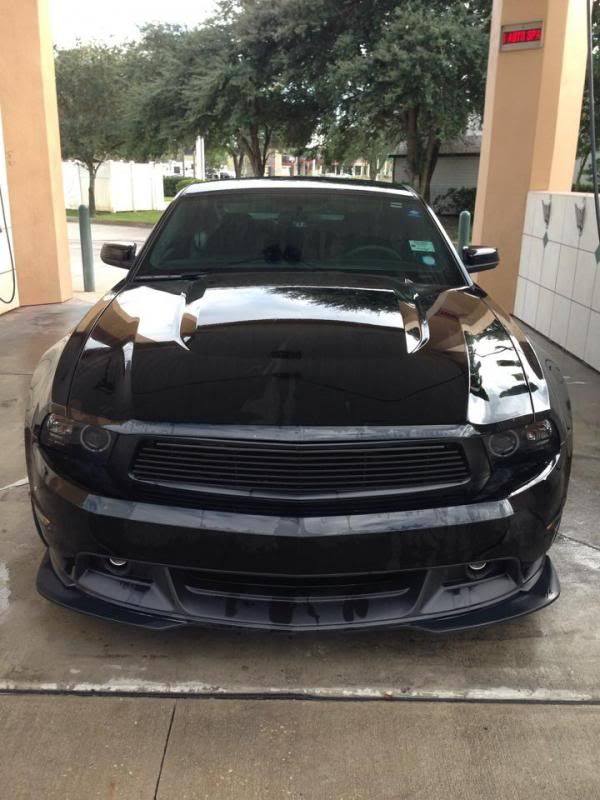 A stealthy, dark dream of a car emerged from it's stock form and was enjoyed for quite some time. Until October of 2012, when Corey decided that the stout 315 horsepower, rumbling 281 cubic inch heart of his steed wasn't as potent as he would have liked. A cold air intake and a throttle body were the first items to breath some new life into the shadowy colt. Yet, it still wasn't enough. He added fuel to the fire with a set of cams, full exhaust, and, to top it all off, a mean centrifugal Vortech supercharger. After the smoke cleared, a ferocious animal materialized. Putting down an impressive 504 RWHP and 433RWTQ . However, the word "sufficient" does not appear in the dictionary of most modders. Corey still plans on a full suspension set up, along with forged internals (or maybe even a Boss engine swap) to get even more performance out of his gorgeous thoroughbred. Congratulations to Corey (BlackWidowStang) for his February Forced Induction Ride of the Month win!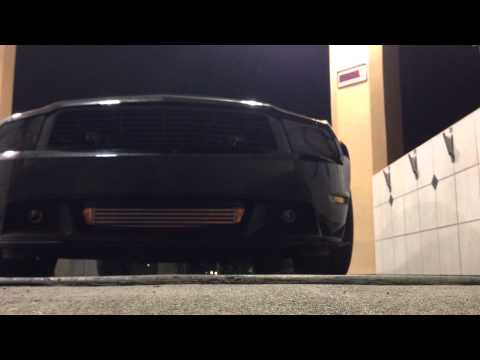 Bonus Video!
Article written by: GT350pwns